Kindle gets real page numbers; better note, highlight & review sharing

Amazon on Monday pre-released a software update for Kindle e-readers running the 3.0 software which updates the interface for magazines and newspapers, adds a quick review section at the end of each book, and adds page numbers that match Kindle books with their print counterparts.
This update is very minor, and the only new feature that takes effect immediately in all content is the "before you go" review section. Here, when you reach the end of a book, you're presented with the option to review your book, or send out a tweet announcing that you just completed the book.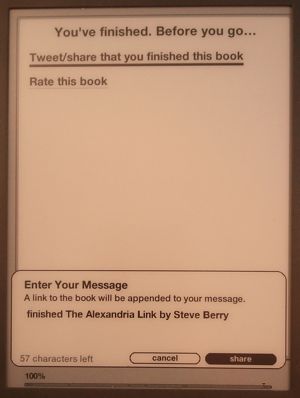 The addition of "real page numbers" has to be added to each book individually, and we unfortunately had no books that had been numbered at our disposal to check out. Amazon is only doing this for books with a print counterpart, and so far, they have been added to several thousand books, including the top 100 best-selling Kindle books.
"Our customers have told us they want real page numbers that match the page numbers in print books so they can easily reference and cite passages, and read alongside others in a book club or class," said Amazon's Kindle blog today.
These minor updates, along with a recent revision to kindle.amazon.com which went live late last week, are further measures intended to make Kindle reading a more social activity.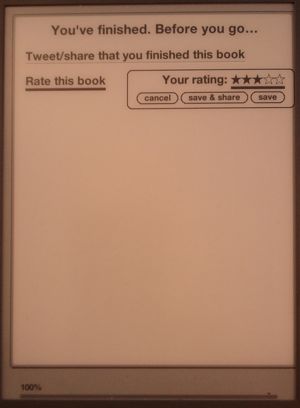 The update to the Kindle library page lets users make their highlights and notes browsable by friends and individuals, or the general public. For example, have a look at my notes and highlights for The Comeback by Consumer Electronics Association president and CEO Gary Shapiro. These are presented in a very simple linear fashion with any notes I added underneath as subscript. (I spoke to Mr. Shapiro about his book this evening, and we talked about some of the quotations in my highlights list, and I'll be posting a story about it tomorrow, so give it a scan!)
Now that Kindle books can be loaned to other users, equally included in book clubs and classrooms, shared on a dedicated Kindle site or on social networks, the format has come a long way toward complete integration into the social bookworm's life.
Now if we could just hand write in the margins…