HTC Flyer shows value of 7" tablet as a connected notepad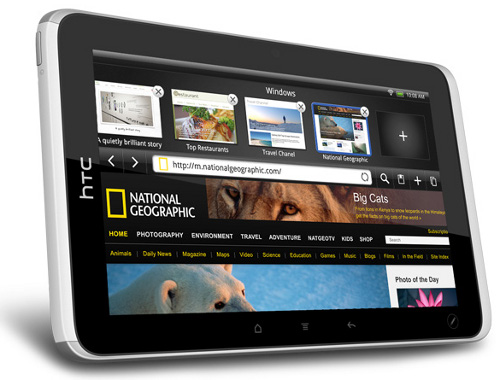 Among an announcement of half a dozen new mobile devices, Taiwanese smartphone maker HTC debuted its first Android tablet, called the Flyer. HTC was the first company to release an Android smartphone of any sort and its presence in the Android tablet market could be imposing.
The HTC Flyer is similar to <!article id="1283458921">Samsung's Galaxy Tab in a number of ways. Firstly in its size, it has a 7" screen with 1024 x 600 resolution. Secondly, in its OS. It is not running Android 3.0 (Honeycomb), the <!article id="1296674042">tablet-optimized version of Google's mobile operating system, and will instead run on Android 2.4 (Gingerbread). However it does offer a slightly more powerful processor, running at 1.5 GHz, compared to the Galaxy Tab's 1 GHz.
There is one respect where the Flyer truly shines against the Galaxy Tab, and indeed against most other mobile tablets: in its support for handwriting recognition. Instead of being a finger-only touch device, the Flyer is equipped with HTC's Scribe technology, which allows for stylus-based input. With Scribe, the "Timemark" audio and written note taking software, and built-in synchronization with Evernote, HTC has built Flyer into a compelling "connected notepad."
<!image id=5946 center>
The whole value of 7" tablets has been in dispute since <!external href="http://www.switched.com/2010/10/19/steve-jobs-7-inch-tablets-are-too-small/">Apple CEO Steve Jobs referred to them as "tweeners" that compete neither with smartphones nor tablets. So naturally, the Flyer has already been the subject of criticism. Furthermore, observers have <!external href="http://www.informationweek.com/news/personal-tech/tablets/showArticle.jhtml?articleID=229218629&cid=RSSfeed_IWK_All">begun to criticize HTC's decision to equip Flyer with Gingerbread instead of Honeycomb, but the 7" form factor of the device makes it a logical OS choice, and its inclusion of pen support and specialty notetaking software draw a pretty clear picture of how Flyer can be exploited.
"Clearly, smartphones have transformed our lives but as we observed how people use smartphones, computers and other technologies, we saw an opportunity to create a tablet experience that is different, more personal and productive," said Peter Chou, CEO of HTC Corporation in a statement Tuesday. "We are progressing down a path as an industry when people will no longer be in a single device paradigm, but have multiple wireless devices for different needs; this is the direction we are moving."
Another area where the Flyer could outdo the Galaxy Tab is mobile gaming. Yes, with the <!article id="1297650553">recent introduction of the "PlayStation Certified" label for Android devices, video gaming on the Android platform has gotten a bit more compelling, but HTC has jumped beyond the app-based downloadable gaming trend and allied with <!article id="1237935537">OnLive for streaming video games. Users need an OnLive controller, a subscription to the service, and a fast connection, and they can use Flyer for fully mobile gaming.
<!image id=5948 center>
As for the rest of the raw specs of the Flyer, it's got 1 GB of RAM and 32 GB of internal storage plus a microSD slot for a maximum of 64 GB, a 5 megapixel camera and 1.3 megapixel forward-facing chat cam, light sensor, velocity sensor, digital compass, 802.11 b/g/n, Quad-band GSM/GPRS/EDGE and HSPA/WCDMA 3G, Bluetooth 3.0 and internal GPS
HTC Flyer will be available internationally in the second quarter of 2011, and pricing and availability will be announced at a later date.