Windows Intune, Microsoft's new cloud solution, launches March 23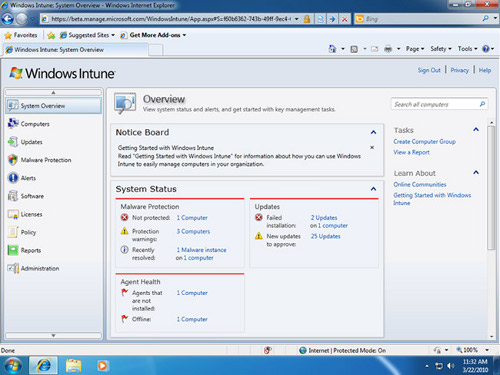 Microsoft on Monday announced that its new cloud PC management solution, Windows Intune, will be launched in its first complete RTM build on March 23 at the Microsoft Management Summit, and will be commercially available in more than 35 countries thereafter.
Windows Intune is a cloud-based desktop management solution which lets IT techs manage remote systems through their browser. Microsoft is marketing Intune toward two different types of small and medium-sized businesses (SMBs.) First, companies that don't yet have a PC management infrastructure, and want one that won't incur a big material cost; Second, companies that have lots of "virtual" and remote employees.
First launched in beta just under a year ago, Windows Intune has the ability to: Manage Microsoft Updates, firewall and malware protection, monitor remote PCs and provide assistance, and keep track of hardware inventory and software licenses and compliance.
Windows Intune will be available in Australia, Austria, Belgium, Canada, Costa Rica, Cyprus, Czech Republic, Denmark, Finland, France, Germany, Greece, Hong Kong, Hungary, India, Ireland, Israel, Italy, Japan, Luxembourg, Malaysia, Mexico, Netherlands, New Zealand, Norway, Poland, Portugal, Puerto Rico, Romania, Singapore, Spain, Sweden, Switzerland, Trinidad & Tobago, United Kingdom and United States.
Current beta testers will continue to have access to Windows Intune until April 18, and companies interested in trying out the solution <!external href="http://www.microsoft.com/windows/windowsintune/pc-management.aspx">will be able to sign up for a 30-day trial when it launches in the next few weeks.