Opera's device-agnostic app store could have widest reach of all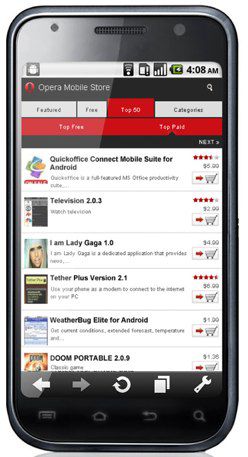 Opera Software on Tuesday launched its browser-based app store which carries applications for all of the mobile platforms that Opera Mobile and Mini support, with the exception of Apple's iOS.
<!external href="http://mobilestore.opera.com/">Mobilestore.opera.com was built on Appia's <!external href="http://www.appia.com/for-operators/storefront/">white-label app store plaform (formerly known as PocketGear) and can be accessed by any browser on any platform.
A link to the store will be a featured speed dial link on all Opera Mini and Opera Mobile browsers, which Opera Software said on Monday constitutes more than 100 million people in over 200 countries worldwide.
With that many guaranteed Opera Mini/Mobile users, plus all of the other browsers it supports for Android, Windows Phone, Symbian, BlackBerry, Palm, and Java, the Opera Mobile Store could be the branded app store with the widest reach yet.
To help developers list their apps in this potentially killer mobile app store, Opera Software launched the <!external href="http://publishers.mobilestore.opera.com/register/devlogin.php">Opera Publisher Portal, which promises developers 70% of an app's net revenue. The net revenue is determined by taking the price of the app and subtracting the value added tax and the billing cost.