Signatures by finger on touchscreen: still not carved in stone

Have you noticed the paper signature has all but disappeared from transactions where goods and money are exchanged? In common day-to-day commerce, you're far more likely to sign your name on a credit card terminal's touchscreen than to put a pen down on an actual slip of paper. Likewise, if you deal in the transport and exchange of packages or heavy shipments of materials and supplies, you're increasingly likely to apply your signature only to digital signature capture pads.
Yet when it comes to legally binding contracts, similar practices have not become nearly as common. As a member of the press, I frequently get emailed nondisclosure forms or loaner agreement forms which I have to print out and physically sign, and then either fax, or re-scan and return, despite the fact that I have five touchscreen devices at my disposal at any given time, and could easily apply a digital signature.
Late in 2010, Re-evolve LLC introduced its first iOS application, simply called Contracts, to help turn the ubiquitous iPhone into a signature capture terminal and simplify the exchange of legally binding contracts. The company recently launched its follow-up for the iPad called Contacts HD, which is built to let users create informal (but still legally binding) contracts that can be easily shared and signed on an iOS device's capacitive touchscreen, and returned.
The app, which is available for $9.99 in the iTunes App Store, comes with templates for Non-Disclosure, Non-Compete, General Release, Property Release, Commitment, Model Release, Underage Model Release, Bill of Sale, Resignation, Photo Permission, Blank Contract, Actor Extra Contract, Rental/Lease Contract.
As you can see by the types of contracts included, this app would be especially handy for smaller-scale film and television production crews who need to quickly, but legally, obtain the rights to reproduce the images of people that were captured on film. However, the app is potentially useful for any number of different small business types.
"You make a verbal agreement with someone like a friend, neighbor, gym partner or business associate at least once a day," said Preston Tucker, Business Development Manager of Re-Evolve, LLC. "In most cases the other party holds up to their end of the deal, but sometimes they develop selective memory or an exact detail was heard wrong."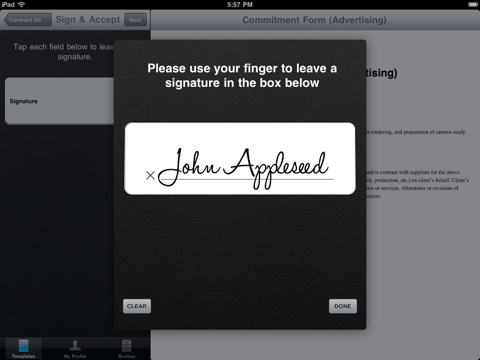 In the public sector, rules for recognition of these types of documents is widely varied. Even though the U.S. government enacted the Uniform Electronic Transactions Act and E-SIGN Act back in the early 2000's to provide a legal framework for the use of electronic signatures and records in government or business transactions, there are situations where their use has still not been delineated. Furthermore, New York, Illinois, and Washington do not observe the Act, but have their own statutes pertaining to electronic signatures.
For example, in the 2010 case Ni v. Slocum, an initiative petition submitted to the San Mateo, Calif. County elections office was denied because the digital image of the petitioner's signature did not count.
"The digital image of a purportedly completed initiative petition stored on a USB flash drive does not constitute a petition or paper for purposes of determining what the Elections Office must process," Superior Court judge George Miram said in his judgement of the case last year.
So with the prevalence of touchscreen devices, quick, legally-binding finger signatures could see growth in the private sector. But their legality and validity, as we have seen in the public sector, can still be debated.