Qik one-ups FaceTime with Video Connect for iPhone, iPad 2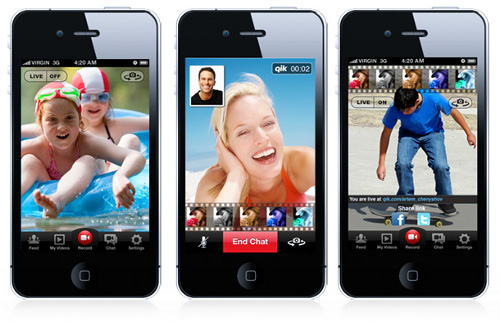 At the South by Southwest Interactive festival in Austin Texas today, Qik, the streaming video service <!article id="1294346032">acquired by Skype in January debuted its latest iOS application, called Video Connect.
Unlike other Qik apps <!article id="1250261339">released for the iPhone, Video Connect isn't just a video chat client, but a portable video communications suite that includes on the fly editing, live streaming video effects, video mail, as well as instant social sharing and automatic desktop synchronization.
The application is available for $2.99 <!external href="http://itunes.apple.com/us/app/qik-video-connect-plus/id424106070?mt=8&ls=1">in the iTunes App Store today, and works with all dual-camera iOS devices (iPhone 4, 4th generation iPod touch, iPad 2.)
Though there has been an increasing amount of competition in mobile video communications with the introduction of <!external href="http://socialcam.com/">Socialcam and the latest updates to Apple's FaceTime --including a <!external href="http://www.apple.com/mac/facetime/">version for Mac-- Qik remains noteworthy because it was the first widely available <!article id="1273717290">low-latency video chat application for mobile devices on the market, and one of the first to break through with <!article id="1245784802">live mobile phone broadcasting nearly two years ago.