Will HTC EVO 3D and EVO View 4G be worth the wait?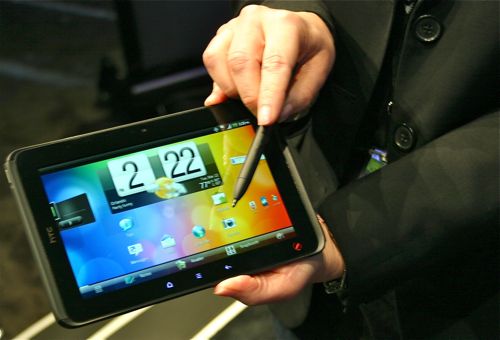 Like the Consumer Electronics Show in January, CTIA Wireless is shaping up to be another tradeshow of promises. Why can't vendors announce a connected product and imminently ship it (barring FCC approval)? Samsung will ship Galaxy Tab 8.9 and 10.1 tablets this summer. HTC and Sprint are targeting similar delivery time for the EVO 3D smartphone and EVO View 4G tablet, announced today. Yesterday, Sprint started taking preorders for the Samsung-manufactured, Google-branded Nexus S 4G, which is "coming soon."
The competitive landscape could change whole lots before HTC, Sprint or Samsung get any of these products to market. There is the aftermath of the devastating 9.0 earthquake in Japan, which could cause component shortages as soon as next month. On Sunday, Deutsche Telekom announced sale of T-Mobile USA to AT&T for $39 billion. Apple's iPad 2 goes on sale in 25 more countries on Friday. The iPhone 5 is expected in summer, too. 
What are these companies thinking? Keep in mind that Samsung debuted Galaxy Tab 10.1 in January, so its delivery to market is even longer than Sprint's new HTC tablet. Perhaps at a different time -- like 2007, when Apple announced iPhone in January and launched in June -- things would be different. But connected mobile device markets are quite volatile right now -- tumultuous when adding the AT&T and T-Mobile merger. Will products like the EVO 3D or EVO View 4G tablet be worth waiting for? That's a question I pose to you, and ask that you answer in comments -- or you can email joewilcox at gmail dot com.
HTC EVO 3D
The HTC EVO 3D is an Android 2.3 "Gingerbread" handset offering glassless-3D capabilities. Does that really appeal to you? Today at Gizmodo, Sam Biddle asks manufacturers to "please stop making 3D phones." He gripes: "Immersion, whether 2D or 3D, makes sense on a big screen. It takes up your field of vision. It's most (or all) of what you can see. Immersion on a 4-inch screen, whether 2D or 3D, makes as much physical sense as brushing your hair with a trident."
I don't agree. 3D, like gaming or photography, is contextual. If you want to play 3D games, and there's no big screen around, the smartphone is good enough in that context. However, that doesn't mean there will be gnerally enough interest in mobile 3D or applications for it. If people want 3D, it could be something worth waiting for -- if HTC does it well enough and no one else gets something better or cheaper to market sooner. June is an eternity right now, given all the connected mobile devices announced so far this year. Do you care about mobile 3D? Is it high on your must-have smartphone features list? You know where and how to respond.
Something else that might change before summer: Another rev of Android, putting the EVO 3D a generation (or two) behind even before the device ships. Still, by the specs the smartphone is a mighty beast:
4.3-inch display
1.2 GHz dual-core Qualcomm Snapdragon processor
1GB or RAM
4GB of internal storage, expandable to 36GB with MicroSD card
3G/4G radios and WiFi "N"
Dual 5-megapixel rear-facing and 1.3-megapixel front-facing cameras
GPS
Stereo Bluetooth
Blockbuster on Demand
Android 2.3
To clarify, there really are two cameras on the back so you can -- yes -- shoot photos in 3D. Mmmm. Movies, too? Surely iPhone 5 won't do that (and maybe shouldn't). Pricing won't be available until closer to launch.
EVO View 4G
My colleague Tim Conneally is at CTIA Wireless. In an IM conversation not 30 minutes ago, he expressed: "View is seriously cool." Now there's a an endorsement from an Android gadget geek. But cool today could be icy cold tomorrow, if something better comes along. Sprint really needs a cool -- hot, if you prefer -- tablet to compete with iPad 2 and Motorola XOOM today. Customers wanting cellular connectivity can chose AT&T or Verizon for their iPad, while Verizon is the only US carrier for XOOM. Well, for now. Those are customers Sprint either will lose to the larger carriers or simply not capture. Well, there is the aging (cough, cough) 7-inch Galaxy Tab, which Sprint sells for $299.99 with two-year contractual commitment.
By the specs, I've got to wonder how cool will be the View come summer:
7-inch display with 1024 by 600 resolution
1.5 GHz single-core Qualcomm Snapdragon processor
1GB or RAM
32GB of internal storage, expandable to 64GB with MicroSD card
3G/4G radios and WiFi "N"
5-megapixel rear-facing and 1.3-megapixel front-facing cameras
GPS
Bluetooth 3.0
Blockbuster on Demand
Android 2.3
The Samsung Galaxy Tab 8.9, while slightly larger, will have dual-core processor. And multi-processor is most certainly the trend for Android 3.0 "Honeycomb" tablets, which EVO View 4G won't be -- at launch, anyway. Again, there is no pricing this far from release. Does this tablet interest you -- and for what price? Name your number now and maybe HTC and Sprint will listen.
Both devices support Blockbuster on Demand. Now there's something else you've got to wonder will be around come summer. Blockbuster is suffering through tough times -- bankruptcy and shuttering stores.
Please forgive me for seeming sour on both EVOs. I think both products would be competitive if released today. I'm skeptical about summer -- and vendors announcing products so far ahead of availability. Would you wait for either the HTC EVO 3D or EVO View 4G? If not, why not? Again, please answer in comments, or email joewilcox at gmail dot com.