Hands on with HTC HD7S: aka the Windows Phone that used to be T-Mobile's

HTC and Microsoft are in their third year of creating smartphones in the "HD" product line, and the two companies look to have finally hit their stride with the new HD7S, which is a slightly revamped version of the four-month-old HD7, completely ready for a world where T-Mobile USA no longer exists.
In early 2009, the HTC Touch HD was unveiled, a 3.8" WVGA touchscreen device which was obviously a post-iPhone device in chassis design, but was powered by Windows Mobile 6.1 which mandated a stylus and resistive touchscreen. By 2009, this was already something of a doomed interface in the smartphone category.
Later in the year the much more ambitious HD2 was revealed. Though it was very ahead of the curve with a massive 4.3" capacitive touchscreen and a 1GHz Snapdragon processor, it was powered by Windows Mobile 6.5, the operating system that time will undoubtedly prove to have been Windows Vista for Mobile.
Then in late 2010, the first batch of Windows Phone 7 devices hit the market. WIth the completely redesigned "metro" user interface and new compelling integration with services such as Xbox Live and Zune Pass, Microsoft finally looked to have scored a real victory for the HD line. Unfortunately, the HD7 was launched with ten other Windows Phone 7 devices, and they all had the same hardware specs and price tag. There has really been very little done to differentiate the HD7 from, for example, the Samsung Focus.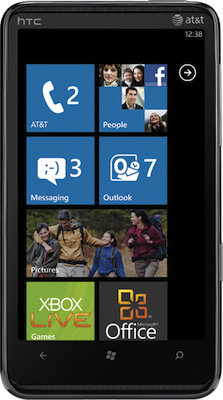 But, of course, this is a reality created by Apple that Microsoft appears to have deftly predicted.
Industry watchers have engaged in a lot of discussion recently over the following quote from Apple CEO Steve Jobs:
"…A lot of folks in this tablet market are rushing in and they're looking at this as the next PC. The hardware and the software are done by different companies. And they're talking about speeds and feeds just like they did with PCs."
Jobs' idea here is basically that in the mobile device realm, experience outweighs the spec muscle flex-off, and that an incredible experience can be had on a brilliantly programmed device with a 50MHz processor just as easily as one with a 1.5GHz dual-core blazer.
By standardizing the hardware configuration of Windows Phone 7, Microsoft put the user experience ahead of the hardware. No matter the device, you'd be getting roughly the same experience across the board.
So with T-Mobile's acquisition by AT&T pending, the life ahead of the original HD7 on T-Mobile looks to be short. Fortunately, the new HD7S is essentially the exact same phone, only with a higher resolution screen, the updated version of Windows Phone 7 featuring copy and paste, and the requisite AT&T branding/compatibility instead of T-Mobile.
It performs very much like the other Windows Phones. In other words, it's quick and responsive while still managing to be easy on the eyes…and when I tried to get a video of the body, I set off HTC's security alarm.
I guess that means it's secure too.