Microsoft pushes Windows Intune RTM; BitLocker Administration and Monitoring beta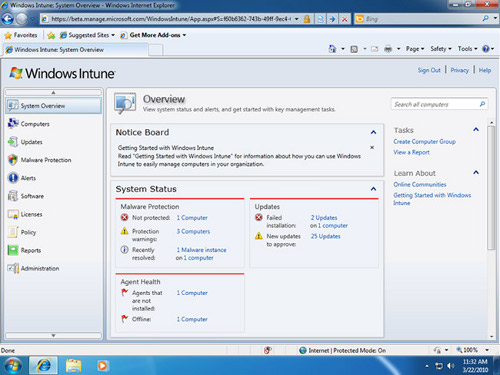 At the Microsoft Management Summit on Wednesday, Microsoft rolled out the final version of Windows Intune and provided information on the betas of a handful of its management solutions.
Windows Intune is Microsoft's new cloud-based PC management solution for small and medium sized businesses. As Microsoft promised <!article id="1298913636">in late February, the software is now available in 35 countries and comes with a 30-day trial subscription for small companies looking to try out the browser-accessible remote management suite.
With Intune, IT can remotely monitor hardware, software and security conditions for all PCs belonging to the enterprise, and provide remote support through the same console.
"If you have a PC and can connect it to the Internet, it can be managed and better protected with Windows Intune -- and that's a benefit for IT and for end users," Rich Reynolds, general manager of Windows Commercial Marketing <!external href="http://www.microsoft.com/Presspass/Features/2011/mar11/03-23WindowsIntune.mspx">said on Wednesday.
Also at the summit today, Microsoft announced the beta of Microsoft BitLocker Administration and Monitoring (MBAM) is available for download. <!article id="1297287467">First revealed in February, MBAM is a tool designed to be used on top of BitLocker to simplify provisioning, monitoring and key recovery. Microsoft has confirmed to us that this is now in the open beta phase, making it available to all current BitLocker customers.
Further, Microsoft today said the beta for the next version of Diagnostics and Recovery Toolset (DaRT) will be available "in early April," and the next version of the <!external href="http://www.microsoft.com/windows/enterprise/products/mdop/default.aspx">Microsoft Desktop Optimization Pack (MDOP) will be available some time in the third quarter of 2011, the most recent version of MDOP was released <!article id="1299781960">two weeks ago.