Parents can set up 'E-Allowance' with American Express' new system Serve

Credit card company American Express on Monday launched Serve, a payment system that allows customers to make person-to-person payments online, via mobile phones, or at merchants who accept American Express credit cards. Serve launched just two weeks after Visa Inc. announced a similar person-to-person service powered by Popmoney and ZashPay.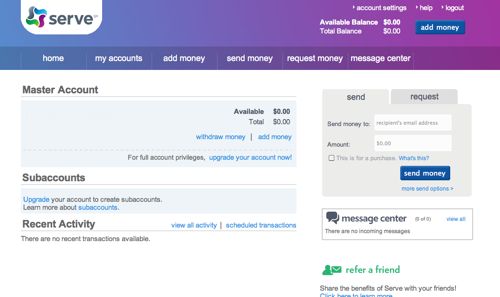 Users set up an account on Serve.com or through the Android or iOS apps, and then link their bank accounts, debit or credit cards, or other Serve accounts to add funds. At its most basic, Serve works like a prepaid credit card that can receive funds from any linked bank account or registered Serve user. Without adding any information other than name, age, address, and phone number, a Serve account can receive up to $500 per month.
A Serve "administrator" account offers the user the ability to create, manage, and specify sub-accounts for friends, family members or colleagues. These sub-accounts are linked to the master account, and let the user set spending profiles for all the related accounts.
In this way, Serve can be an ultra modern platform for parents to distribute "e-allowance" to their kids. Rather than dish out cash, Parents can charge up their kids' Serve accounts, and the kids can then use their money to make online or mobile purchases and eventually at retail stores. There are no fees to open an account, no monthly fees, no fees for person-to-person transaction, and no fees to set up as many as four sub-accounts. After a six-month introductory period, consumers will be charged 2.9% plus 30 cents each time they transfer money into their Serve account.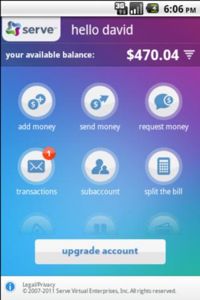 We were going do a Serve review today since it's available to everyone in the U.S. immediately, but setting up an account requires users to physically mail or fax documents proving Social Security information and mailing address verification to Serve Virtual Enterprises (not American Express.) Without sending this information, neither the Web interface nor the mobile app will allow any activity other than logging in.