Some things that Firefox 4 can do that Android's stock browser can't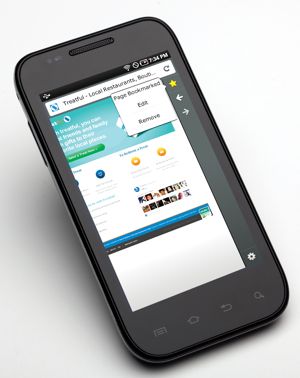 Mozilla today released the final version of <!external href="https://market.android.com/details?id=org.mozilla.firefox">Firefox 4 for Android and <!external href="http://www.mozilla.com/en-US/m/">Maemo, just one week after general availability of the mobile browser's release candidate.
It's kind of hard to believe the first version of "Firefox Mobile" is finally done. The browser that was originally launched under the name Fennec <!article id="1224619961">back in 2008 wasn't even available on Android <!article id="1272507350">until April 2010, and even then it was only a "pre-alpha" release. After the mobile browser switched names and <!article id="1286489026">became Firefox 4 six months ago, finalization of the browser has been rapid.
Since Mozilla is trying to pull users away from Google's built-in Android browser with this product, we're presenting a list of features that Firefox 4 offers that cannot be found on the stock Android browser.
1.) Firefox Sync- Desktop Firefox users can sync their open tabs, browser history, bookmarks, and saved form data like passwords and addresses with their Android mobile device.
2.) Add-ons- Another quintessential Firefox feature turned mobile, users can customize their browser with add-ons such as AdBlock Plus, NoScript, DOM Inspector, AutoPager, and Xultris.
3.) Personas- Also known as browser themes, users can pick from <!external href="http://www.getpersonas.com/en-US/?source=moz.com_features">thousands of Personas available to the desktop version of Firefox.
4.) Save as PDF- Under "Menu > Site Options" users are given the opportunity to save pages as PDF files for offline viewing.
5.) Unlimited tabs- The stock Android browser only allows for 8 browser tabs at a time, and Firefox 4 can have many, many more. In testing the browser today, I opened 27 browser tabs before the phone started to show the effects.
6.) Not Just Google/Yahoo/Bing- With Android's stock browser, the URL bar doubles as a search bar, but it can only be customized to search Google, Yahoo, or Bing. With Firefox 4, the "Awesome Bar" can be used to search Wikipedia, Amazon, or Twitter, or any search engine or service the user cares to add.
7.) JaegerMonkey JIT compiler- The JagerMonkey JIT Compiler which came to the desktop version of Firefox 4 last November is in the mobile version as well. Mozilla says Firefox 4 is up to three times faster than the Android stock browser because of this, much like the performance boost <!article id="1289437323">it claimed the desktop version received from it.
8.) NTLM Authentication- Because <!external href="http://code.google.com/p/android/issues/detail?id=4962">Android does not support NTLM (NT LAN Manager), Firefox 4 is one of the only ways to access SharePoint sites with this type of authentication. Kerberos, however, is still unsupported.
9.) Scalable Vector Graphics- The only version of Android's stock browser to support SVG is <!external href="http://googlesystem.blogspot.com/2011/02/android-honeycombs-browser-supports-svg.html">reportedly the one packed in with devices running the Honeycomb build. All other versions currently do not support this technology. Firefox 4 for Android, however, supports SVG along with the HTML5 technologies <!external href="http://www.mozilla.com/en-US/mobile/4.0b1/releasenotes/">canvas, offline storage, and Web workers
If we missed anything, let us know!