AdMob survey shows 28% of tablet owners use device as primary PC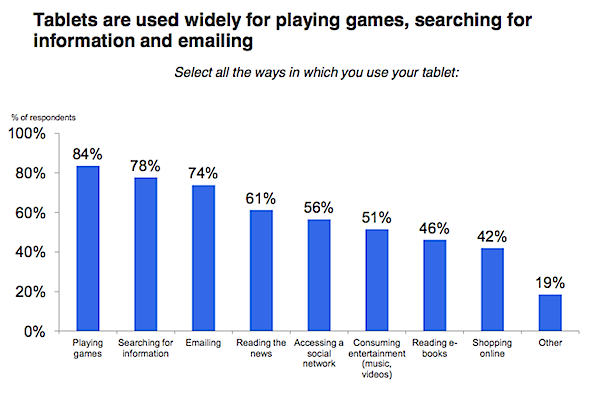 Google is putting its AdMob acquisition to good data analysis use, releasing some fascinating findings about tablets. A March survey of 1,430 (presumably) tablet owners reveals that the majority (77 percent) use their desktop or laptop PC less after buying the device. Twenty-eight percent use the tablet as their primary PC.  A tablet may not be a PC by definition, but it's functionally equivalent enough for some people.
Like I wrote in February: "The PC era is over."
The transition from the PC era to the cloud-connected device era has been ongoing for about a half decade -- around the time Facebook, Twitter and YouTube all launched to the public. Transitions like this are slow at first, but suddenly surge at some point later in the adoption curve. We've reached that point, as smartphone sales surge and tablets begin to replace PCs -- all connected to the Web and cloud services. Gartner predicts tablet sales of 69 million this year and 468 million smartphones.
One of the surest signs one technology is replacing another, such as VHS tapes to DVD, CDs to digital downloads and trains to cars: Behavioral changes. The AdMob findings remind of surveys done a decade ago showing consumers displacing TV watching and other entertainment activities for the web. But the real changes accelerated after 2005, after services like Facebook, YouTube  and other social sharing applications or services started picking up regular users.
Among the behavioral changes:
84 percent of tablet owners play games on the device
61 percent read the news
56 percent engage in social networking
52 percent spend more time on the tablet than listening to the radio
34 percent spend more time on the tablet than watching TV
One of the most startling findings is about books. Fifty-nine percent of tablet owners say they read "paper books" less after getting the device. Meanwhile, 46 percent of respondents read ebooks on their tablets. If Amazon isn't developing an Android Kindle, it's well past time to do so.
<!image id=6336 center>
In June 2010, I confessed to being wrong about iPad, after dissing it and other tablets six months earlier. My attitude dramatically changed after buying iPad and seeing how immersive and intimate was the reading (and other media consumption experience). Part of this immersive experience is the technology, but also how iPad is used. Apple's tablet is a sit down and focus device, as much because of size and shape as screen and user interface. The totality -- physical design and software benefits -- is immersion. This is an experience other tablet manufacturers, such as Motorola, Research in Motion and Samsung, are trying to imitate.
Intimacy is another compelling attribute. Holding something in your hands is much more intimate than looking at something placed away at greater distance, such as a desktop or notebook PC.
<!image id=6337 center>
Only 7 percent of respondents use tablets at work. The majority (82 percent) use them at home -- and typically for at least one hour a day. Still, business adoption is sure to increase. Earlier this week, Gartner made a formal announcement encouraging CIOs to begin supporting tablets in the enterprise right away.
David Willis, Gartner research director, pitched tablets for sales and other engagement scenarios. "For sales managers, media tablets will be a natural platform for business analytics and performance dashboards." He called "the intimacy of using a media tablet" as one major benefit, such as media professionals interacting with patients or retail clerks using "tablets to display customized clothing for a customer."
So, my question for tablet users: How has it changed your PC usage? Please answer in comments.