Cisco may be killing off Flip, but Pocket Camcorders have come full circle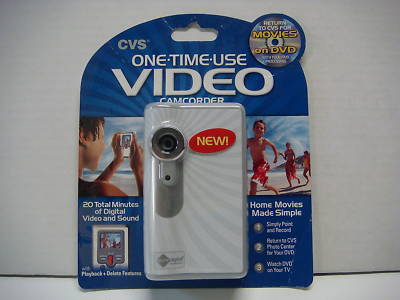 Two years after acquiring Pure Digital and its Flip camcorder line for $590 million, Cisco this week announced it is terminating the product line and laying off all 550 employees in the division, a shocking announcement for fans of the iconic pocket camcorder brand.
Flip was responsible for nothing less than inventing the pocket camcorder form factor that dozens of consumer electronics companies now produce.
But the cancellation of Flip does not mean pocket camcorders have failed, or that they are being replaced by smartphones. Instead, the class of devices appears to be coming "full circle," in their existence.
To understand what I mean, we have to go back to Flip's beginnings.
In 2005, after several years making disposable digital still cameras such as the Ritz Dakota Digital, Pure Digital partnered with CVS to bring its first one-time use digital video camera to the national pharmacy chain and photo developing lab.
For $29.99, the 5-ounce camcorder gave users 20 minutes of 320 x 240 of Divx-encoded video that they could review on the device's 1.4" color viewscreen, and do rudimentary "edits" where clips could be kept or deleted. After users finished with the device, CVS processed the video onto a DVD for $12.99.
"We believe that capturing and sharing high-quality, digital home movies should be a fun and easy experience," Jonathan Kaplan, Pure Digital's CEO said at the time of the camcorder's launch. "Our partnership with CVS / pharmacy delivers a complete digital home video solution that is affordable and simple enough for even novice users."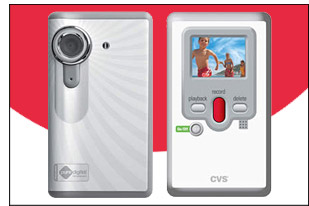 Clever users figured out that the one-time use camcorder <!external href="http://www.i-hacked.com/content/view/182/90/">could be hacked and reused with a piece of developer software which was accidentally left available on a Pure DIgital FTP site.
These hacks circulated online, and proved to be quite popular. Pure Digital followed up by introducing a legitimately reusable version of the camera that didn't require a serial connector hack.
"We at Pure Digital Technologies have to let you all know that this recent behavior has unfortunately passed the line separating cool/fun from completely illegal," the company posted on the CameraHacks forum in 2006. "We sell an awesome reusable video camcorder that offers 2-3 times the quality, a zoom lens, and 30 minutes of storage. Here is a link to a $20 rebate and a list of stores and sites for purchase. It's a much better deal (although, less fun) than illegally stealing files (or using stolen files, also illegal) to hack our camcorders/cameras."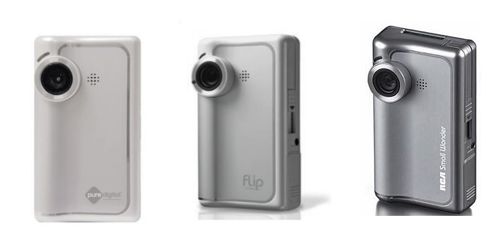 Pictured above, the Pure Digital PSV-351, the company's first attempt at a non-disposable video camera, which introduced the novel flip-out USB connector now common among all pocket camcorders. The importance of this flip-out connector is illustrated by the camera shown in the middle of the picture, which rebranded as "Flip." At the far right is the RCA Small Wonder, which licensed the design from Pure Digital and broadened the availability of the new "flipcam" pocket camcorder form factor.
Each version of Flip camcorder carried an increasing buzz with it, and the reviews favoring its simple operation and good quality audio and video cemented it as the definitive pocket camcorder brand.
The Flip brand grew from modest drug store beginnings and moved into major consumer electronics vendors and big box retailers. In doing so, the brand never really returned to CVS.
Just a few weeks ago, Kodak, one of Flip's biggest competitors, rather serendipitously began selling a new, non-disposable pocket camcorder at CVS drug stores for a mere $49. The devices have returned to their origin: super cheap, super simple, available 24 hours a day.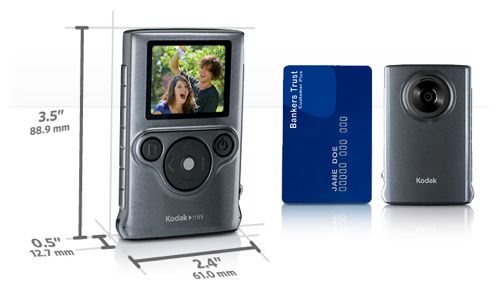 Capitalizing on the declining cost of CMOS sensors and related materials, the Kodak Zm1 has a low resolution sensor (VGA 30fps, QVGA 30fps/60fps) and a monaural microphone, but is waterproof, accepts MicroSD cards for storage, and above all else, is simple to use.
But it's not just that they've gone back to the roots of the form factor, they've also gone off in new directions as users find <!external href="http://www.youtube.com/watch?v=x8XjIkdUQns">more creative uses for the devices. Now, there are compelling pocket camcorders available to suit different user needs beyond what Cisco ever offered with the Flip line.
So even though the market's leading brand is about to retire, <!article id="1277408316">the pocket camcorder business is still thriving, and here are some of the best Flip replacements based upon their unique features:
Kodak Zi8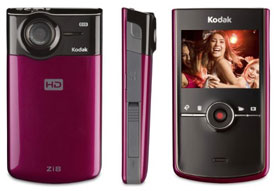 Though it has an extremely limiting focus range, The Kodak Zi8 is still the best choice for users <!article id="1264800513">who demand high quality audio and interactivity with IR remote controls. This product is about to age out of Kodak's line of pocket camcorders, so it may be a worthwhile investment as its price comes down.
Creative Vado 3rd generation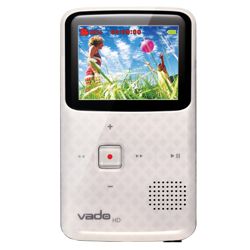 For users looking for a versatile and tiny camcorder, the Vado is an excellent choice. With a microphone input and newly-released magnetic lens packs, it can handle a lot of duties with authority. We've <!external href="http://www.youtube.com/watch?v=oj5YAgAkd0U">tested it rather extensively and think it's one of the best all-around pocket camcorders on the market today. Unfortunately it is very limited in storage, and offers no SD expansion.
Sanyo Xacti VPC-PD2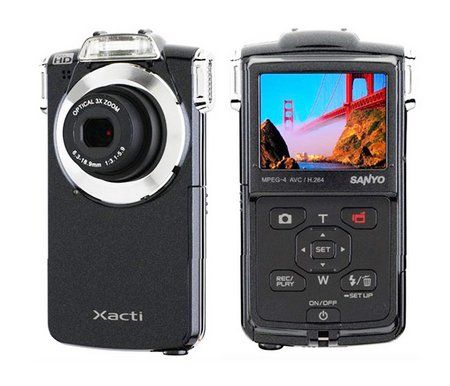 This is a good choice for users who need to shoot from a distance. Most pocket camcorders only offer digital zoom, but the Xacti has a 3x optical zoom in addition to a 2x digital. This is much greater than most. Unfortunately you cannot zoom while the camera is actually recording.
Samsung Swivel Lens (HMX-E10BN)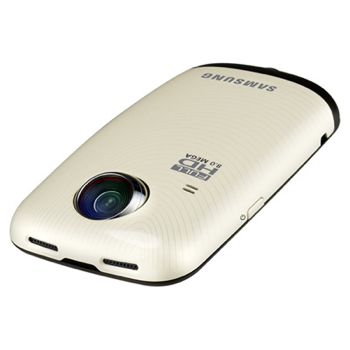 Samsung's new pocket camcorder takes a cue from the first generation Sony Bloggie and offers a lens that swivels 270 degrees, allowing for bloggers to easily self-tape. It also offers a decent amount of built-in filters and effects, more than many of its competitors.
Panasonic TA-1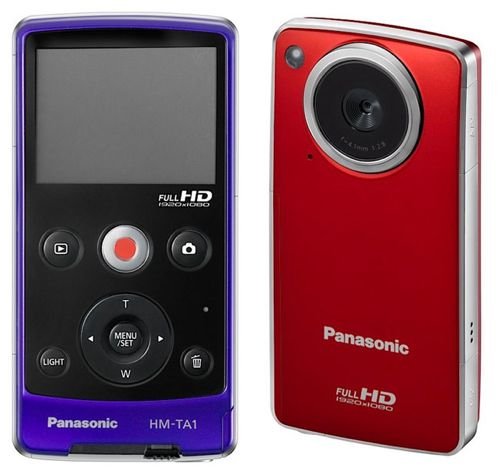 The TA-1 is unique in two ways in the pocket camcorder class: it accepts SDXC cards, which allow vastly more storage, and it has a built-in LED flash for dark settings. Early reviewers have criticized Panasonic for building the device with such lightweight materials that it feels flimsy, but the potentially high capacity storage and unique lamp do make it noteworthy.
Sony Bloggie 3D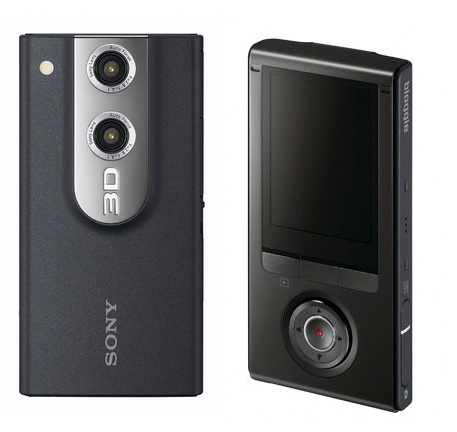 There are only a couple of 3D pocket camcorders available now, and Sony's is by far the preferable choice, as it offers a glasses-free 3D touchscreen display and the ability to shoot 2D as well.
The death of Flip <!external href="http://pogue.blogs.nytimes.com/2011/04/14/the-tragic-death-of-the-flip/">may be tragic, but these simple camcorders are far from dead.