Will tablet makers choose Android 2.x over Honeycomb to get the right selling price?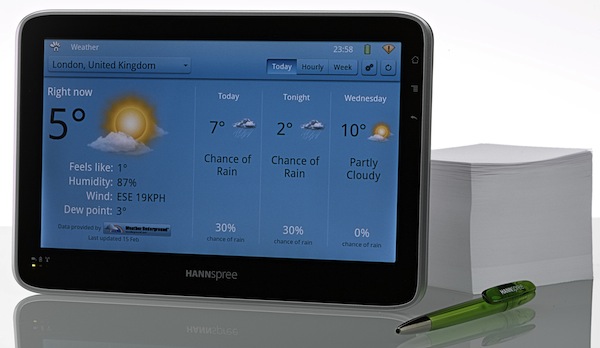 ALICANTE, Spain -- How much are you really willing to pay for a tablet?  It's a question Betanews has asked readers before, and the majority disapprove of $500-plus -- even $400 -- as simply too much. How would you like to pay something less than $500? It's the price, at least according to yet a third Taiwanese company that's just made its way into the exploding tablet market with an eye to laying claim to a "sweet spot," that will motivate you to say "Yeah" and make a purchase.
Along the way to presenting its line to about 300 journalists and bloggers gathered here for a preview of Berlin's IFA consumer products trade show in September, one of HannStar Ltd.'s officials offered candid insight into why it and other companies haven't been rushing to embrace Android 3.0, aka Honeycomb, a version of the operating system especially for tablets: It drives up product costs, and hence selling prices, too much.
If you're scratching your head wondering how Honeycomb costs more, so was I. After all, Google doesn't charge licensing fees for Android. But it has set hardware requirements that manufacturers who want Honeycomb inside, including a high-definition display, must adhere to, noted Jordan Popov, the European product manager for HannStar's Hannspree line of tablets, here. He affirmed what we as journalists have known for awhile: Google is asserting much more control over Android. Just the display requirement has "almost doubled the cost of the panels," he said. "We know because we make those panels."
Hence the reason that Honeycomb tablets cost so much. "We believe the sweet spot is between €300 and  €350 euros," Popov said -- that's as little as $433. "You can only do that with Android 2.2." Motorola's XOOM, the first tablet to reach the market with Honeycomb inside, goes for between $600 and $800. To get to $600, XOOM buyers must either settle for Wi-Fi only (no 3G or 4G) or buy into a two-year Verizon data contract. The tablet's price, unsubsidized, with all the bells and whistles is 800 bucks.
HannStar, a 12-year-old TFT-LCD display manufacturer, introduced its first Hannspree in early April in Europe at a price of €379 euros -- or $550, taxes included. It plans to launch a second in May for about €300. Both are based on Android 2.2. It'll eventually get to a Honeycomb-based model but not until this year's fourth quarter. That's as much as six months later as the majority of announced Honeycomb tablets.
HannStar is also trying to distinguish itself from what's becoming an increasingly crowded tablet market with models, by using its own user interface, which was developed by an American software and design firm, Tap 'n Tap of Boston. In the next two months, Hannstar will also be providing a free suite of productivity applications -- word processing, spreadsheet and a presentation software -- that it claims is compatible with Microsoft Office.
Hannspree's first model, the HANNSpad SN10T1 runs on an nVidia Tegra II 1 GHz Dual Core ARM processor, 16 GB of Flash storage and microSD card slot. Its second model, due in May, the SN10T2, will run on a less expensive single-core processor and sell for about €300.
Oh yeah, while Hanspree is competing with Apple it's at least an ally in one sense too: Popov said his company has "doubts" about a tablet that's anything smaller than 10.1 inches. Take that Samsung!
Disclosure: IFA paid travel expenses and accomodations for the event it sponsored and Patrick Houston attended.
<!image id=6437 left>Patrick Houston is the editorial director of NetShelter Technology Media, in which Betanews is a partner. He is a long-time tech journalist who, prior to NetShelter, served as the editor in chief of CNET.com, and the general manager for Yahoo's tech channel.