Can Nook Color be a decent Android tablet without being rooted?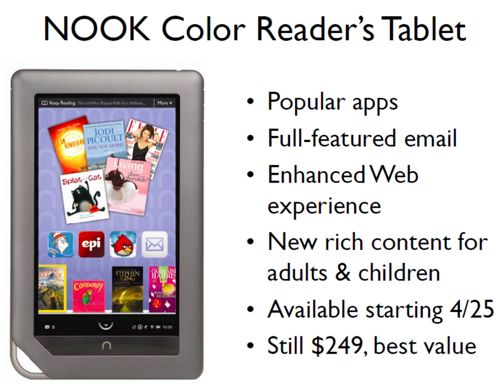 Barnes and Noble rolled out a series of updates to its Nook Color platform on Monday, including the 1.2 software update to the e-reader, a new Nook Apps store, and a Nook app developer program. The total package means the Nook Color is now just a bit more like a full-fledged Android tablet than a simple e-reader.
The Nook Color's underlying Android OS receives the "FroYo" update today, and with it, it gets POP and IMAP e-mail support, improved Web browsing, Adobe Flash Player, the Nook Apps store, a social reading and book sharing app called Nook Friends, Nook Books Enhanced which supports in-book video, and Nook Kids.
<!image id=6506 left>
Nook Color was <!article id="1288138103">launched in 2010 as a more interactive e-reader, or a "reader's tablet," as the book company has called it. With a full color touchscreen, 802.11b/g/n Wi-Fi connectivity, and Android-based OS, it could offer more interactivity in its e-books. The device lacked access to Google's robust Android Market, had no communicative functions like e-mail built in. It had a very limited range of usage outside of e-book consumption.
However, the Nook Color's low price and ability to take microSD cards made it a prime target for rooting. That is, users instal custom software on the device from a bootable SD so that regular Android apps could be installed and Nook Color could be used more freely. It has proven to be quite a well-liked device in the Android enthusiast community precisely for this reason.
Today's software update does not remove the Nook Color's ability to boot from SD, but it is still a clear move to appease users considering the device for its tablet functionality.
"We think with the introduction of today's new capabilities [Nook Color] becomes not only the best reading device, but the absolute best tablet value out there," said Barnes and Noble's President of Digital Products Jamie Iannone in a press conference on Monday. "$249 is less than half of the price of most of the other competitive products out there in the marketplace."
<!image id=6507 right>
Now without having to root the Nook Color, users have access to an app store that has support from approximately 5,000 developers creating Nook Color (or at least 7" FroYo tablet supportive) apps, access to Yahoo Mail, GMail, Hotmail, AOL mail and other POP/IMAP accounts, improved pinch-to-zoom in the browser, and more.
The reader-specific improvements include enhanced page-turn animations, the ability to create circles of friends to lend books to with Nook Friends, and improved support for multimedia and children's interactive books.
But with only 350 interactive kid's books, and 225 multimedia books for adults, there really isn't a tremendous library to attract users to the Nook Color as an interactive book reader, and the total improvements to the device as an e-reader are really secondary to its improvements as a tablet.
Current Nook Color users can update to 1.2 immediately at <!external href=" http://www.nookcolor.com/update">nookcolor.com/update, or can wait for the free over the air (OTA) Wi-Fi update promised next week.