Nokia's problems are a whole lot worse than you think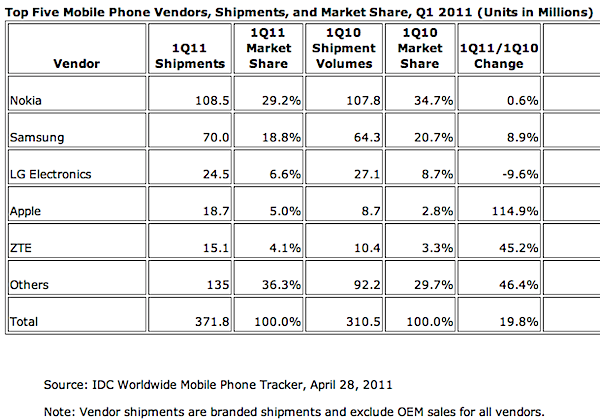 "Increasingly, smartphones will drive market growth. This means feature phone makers will either need to become smartphone dependent or consolidate that part of the market." That statement, from Kevin Restivo, IDC senior research analyst, describes the outlook for the global handset market in 2011. If he's right, and by every indication he is, Nokia will likely lose more market share during the Windows Phone transition. Perhaps more than Gartner and IDC already have forecast.
Nokia's dominance is driven by sales of feature handset and dumb phones, particularly in emerging markets. But those same markets have started adopting smartphones at brisk pace, according to IDC. The handset manufacturer's core problem is threefold:
1. Nokia doesn't have a compelling smartphone to offer customers. This week it outsourced Symbian to Accenture ahead of the transition to Windows Phone. Any Nokia smartphone running Symbian is end of life. Same can be said of any other Nokia handsets.
2. Nokia doesn't plan to release new smartphones, running Windows Phone, until 2012. At this rate, the end of the world forecast by the Mayans could come first.
3. Apple, Samsung and other handset manufacturers sell compelling smartphones now, which will gobble up Nokia market share throughout the remainder of the year.
That's my assessment, by the way, not IDC's, based on information the analyst firm made public today. "Feature phones have represented the majority of mobile phone shipments, but still are under tremendous pressure from smartphones," Ramon Llamas, IDC senior research analyst, said in a statement. "Even popular quick-messaging devices (phones with a QWERTY keyboard), once a bright spot within the feature phone market, appear to be losing steam as smartphones gain popularity."
But he qualifies: "IDC does not expect feature phones to disappear quickly as there is still strong demand across the globe." Perhaps, but smartphones are driving handset sales in growth markets, by IDC's acknowledgement. The analyst firm described smartphone sales to China as "exceptional," for example.
In December 2009, Nokia announced plans to cut smartphone production by half for 2010. In retrospect, it was a stupid retreat.
Handset shipments -- for all categories, not just smartphones -- rose 19.8 percent year over year during first calendar quarter, according to IDC. Shipments reached 371.8 million units, up from 310.5 million units a year earlier. Nokia shipped slightly more units year over year -- 108.5 million up from 107.8 million. But the handset manufacturer bled market share (again), falling to 29.2 percent from 34.7 percent a year earlier.
Meanwhile, year over year growth was 114.9 percent for fourth-ranked Apple and 45.2 percent for ZTE, which captured the No. 5 position. The manufacturers had 5 percent 4.1 percent market share, respectively. ZTE and other Chinese handset makers, some of them white label, represent a different competitive threat -- and not just for Nokia. Some of these companies are bringing innovative -- often based on imitative -- smartphone designs to market with features not available from major brand manufacturers. Dual-SIM card support is one of the more common capabilities. Nokia's first major dual-SIM model, the C2, is a feature phone, not smartphone.
Nokia has a tough transition ahead. This week, the company started to move out 7,000 employees -- 3,000 transferred to Accenture, while the remainder will be laid off. The handset manufacturer is gutting its research and development operations, in favor of supporting development from Microsoft. As a former Nokia fan, the transition under way is painful to watch -- and its outcome is still uncertain. But from the vantage point today, the outlook is grim.