Paragon Hard Disk Manager 11 Professional: The full review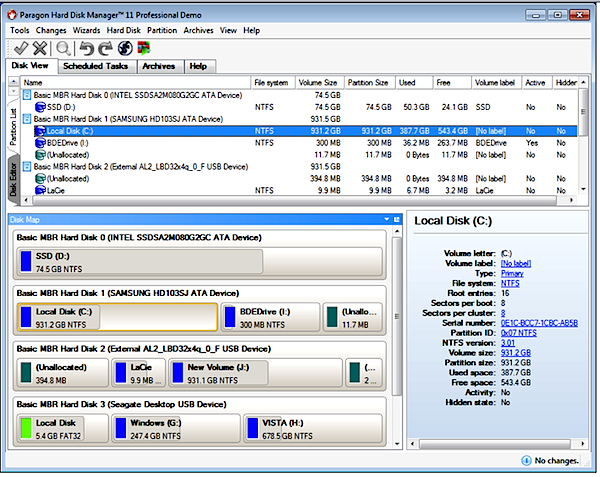 Paragon's Hard Disk Manager is a comprehensive collection of hard drive tools that comes in three different flavors. Hard Disk Manager Suite is powerful, but aimed at home users. The Server edition targets corporations, with its ability to optimize Windows Server installations. But the new Hard Disk Manager 11 Professional is perhaps the most interesting. It's packed with features, and Paragon say it's more of a business package, but there's also plenty here to appeal to the more advanced user, whether at home or in the office.
This doesn't make the program difficult to use, though. Hard Disk Manager 11 Professional doesn't have the same front-end menu that you get in the Suite edition, but it's still quite straightforward to locate the functionality you need; just right-click the drive or partition you'd like to work on, or browse the menus, and the feature you need will generally be very obvious. The interface in general is much the same as it has been in previous Paragon software, so if you've ever used any of the previous suites then you'll probably feel at home right away.
As with previous editions, the program is particularly strong at partitioning, delivering tools to create, format, delete, undelete, resize, merge and generally reorganize your drive's partitions. And better still, most of these functions are carried out by straightforward wizards, which walk you through every step of the process, and do their best to minimize the chance of you making any dangerous decisions.
Some useful backup options allow you to back up everything from your media files, documents and emails (though only for Outlook, Outlook Express or Windows Mail), to individual partitions or entire drives in just a few clicks. You're able to save your backup files to local or network drives, or even an FTP/SFTP server. And support for differential backups (where only new or changed files are saved), as well as the ability to exclude particular file types from the backup (*.old, *.dmp, *.tmp and so on) ensures performance is generally very good.
For rating and final recommendation, visit Software Crew
You also get a straightforward defrag tool, which allows you to compact and defragment the MFT (a key system file on NTFS drives) as well as reorganize your own files for improved performance. Copy tools will clone individual partitions or entire drives in a click or two. And data wiping options allow you to securely delete the contents of a drive so they can't be recovered later, very useful if you're just about to sell your PC.
Premium Features
Most of the features we've mentioned so far are also available in the cheaper Hard Disk Manager Suite -- however, the Professional edition does add some interesting new functionality of its own.
A Cyclic Backup option allows you to schedule unattended backups, for instance. It's basic, but capable enough, and makes a welcome addition to the package. There's better support for drive technologies, for instance: you'll need HDM Professional if you want to partition, or use the program's disaster recovery tools on dynamic volumes.
You also get more low-level drive tweaks. So while both editions can change details like your partition ID or serial number, only the HMD Professional can change your partition's cluster size, which may allow you to achieve a more efficient use of disk space.
A Scripting tool could come in useful if you plan to use Hard Disk Manager Professional on several computers. The program is able to generate scripts based on your actions, which you can then use to automate its operations elsewhere.
<!image id=6575 center>
Probably the best addition, though, comes in the HDM Professional's enhanced virtualization support. So the program is able to convert any of your physical drives into a virtual disk, for instance (all the major formats are supported: Virtual PC, VirtualBox and VMware). If your virtual disk won't boot then low-level tweaking options like "P2V Adjust OS" should be able to fix the problem. And, most conveniently of all, you're able to mount a virtual disk and then work with it just like any other. So you can easily partition, defragment, back up, or otherwise tweak a virtual disk to suit your needs.
Is Hard Disk Manager Professional worth its premium price, then? If you need to work with dynamic volumes, or will use the virtualization tools, the answer is a definite yes. It's a very powerful package that makes it straightforward to manage and maintain just about any hard drive type.
If you've no interest in virtualization, though, and no plans to equip your system with dynamic volumes, then the situation is a little different. While Hard Disk Manager Professional does have other extras, like automated backup options and the ability to change cluster sizes, these can be found elsewhere at little (or often no) extra cost. So Hard Disk Manager Suite may look like a much better deal, providing all the functionality you'll need (and probably more) for around half the price of its Professional cousin.
The software is available for Windows XP/ Vista/ 7 (both 32 and 64-bit editions).
Get more Windows applications reviews like this at Software Crew.