7digital steps up to Amazon, opens Android MP3 store

UK-based music and video download site 7digital on Tuesday updated its Android music player application, making its MP3 download store available to Android devices in the US, UK, Canada, and 13 other countries.
Open source software users should already be familiar with 7digital, since it powers the Ubuntu One Music Store and is the default download store for media management software Songbird. Like Amazon, it offers DRM-free music downloads from all of the "big four" record labels, and the updated Android app lets users browse and preview all of the downloadable albums and songs.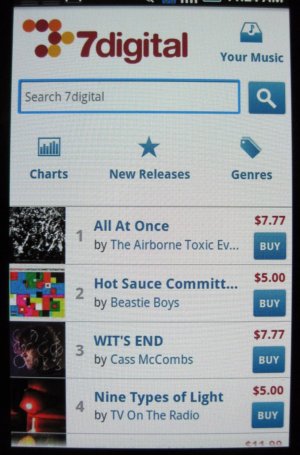 The app differs slightly from Amazon's in that it does not include a "cloud player" to stream content a user has already purchased. Instead, it offers a "digital locker" of the user's purchased tracks.
To listen to content purchased from 7digital in the past, the user must download the material to his Android device's local storage first.
The benefit to this, of course, is that music can be re-downloaded on any device where the user has installed the 7digital app, without having to authorize the device against his account like Apple forces users to do with iTunes.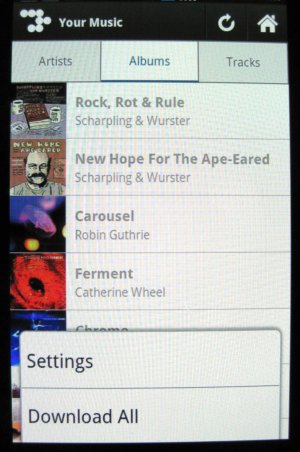 "This major update to our Android application allows our customers to access and purchase high quality MP3 music, wherever they are, on their mobile or tablet device. 7digital is now available natively on the BlackBerry Playbook, Samsung Galaxy Phones and Tablets and now all Android devices can access the 7digital service" comments Ben Drury, 7digital CEO.
"With new cloud features, this update is a major step towards our vision of giving our customers access to their entire music collection on all of their devices."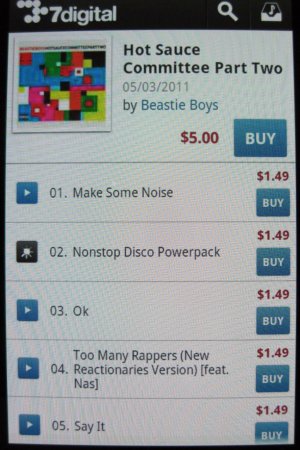 Because 7digital is an international store with local content from the US, Canada, the UK, Germany, France, Spain, Italy, Portugal, Ireland, Belgium, Netherlands, Austria, Switzerland, Finland, Sweden and Norway, it is often a good source of music that is unlisted on Amazon. Furthermore, Amazon is often one of the most affordable MP3 download stores around, but albums listed at 7digital's default price of $7.77 are sometimes even cheaper than they would be on Amazon.
In short, it's a worthwhile competitor on the Android platform.