Sony Ericsson shows off 2nd gen miniature Android phone, Xperia mini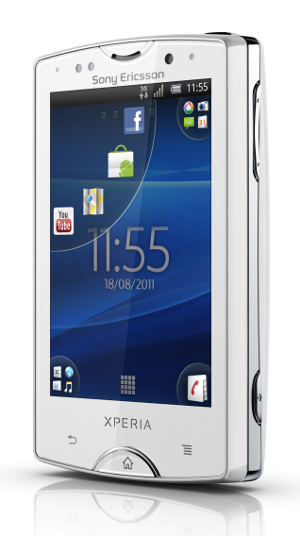 When many companies were pushing the boundaries for bigger and higher resolution screens on Android smartphones, Sony Ericsson went against the grain and <!article id="1269454584">made a smaller Xperia X10 phone. Now that other companies have jumped on board and introduced their own <!article id="1297281090"> more pocketable smartphones, Sony Ericsson on Thursday moved into its second generation with two new Xperia minis.
<!image id=6611 center>
Like the previous generation X10 Mini, the Xperia mini line has two options: the standard version, and the "pro" version which has a slide-out keyboard. In many other respects, however, these devices have undergone quite a bit of change.
In the first place, because they have a bigger 3.0" screen, the Xperia Mini is actually slightly larger than the previous generation. The width and thickness have remained the same across generations, however.
Secondly, the screen resolution has been bumped up from 240 x 320 (QVGA) to 320 x 480 (HVGA), an improvement which coincides with the improved 720p video camera capability of the device. Sony Ericsson says the Xperia Mini will be the smallest HD-capable Android smartphone available.
Finally, it has been equipped with a 1GHz Qualcomm Snapdragon processor and Android 2.3 (Gingerbread).
Like its predecessor, Xperia Mini is a GSM-compatible device, with support for HSPA (900/2100) and GPRS/EDGE (850/900/1800/1900) or HSPA (850/1900/2100) and GPRS/EDGE (850/900/1800/1900).
Sony Ericsson has not announced regional availability, pricing, or a release date yet, but expects the Xperia mini and mini pro to be available in the third quarter of this year.