The price you pay Apple to be cool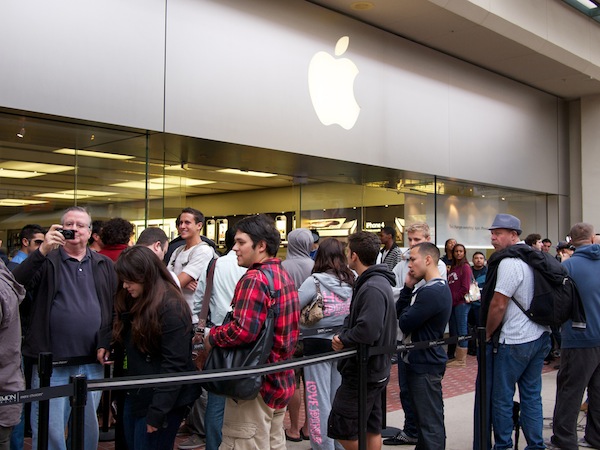 U.S. retail average selling prices for Macs and PCs reveal a startling, but ongoing, trend. Mac ASPs are higher and Windows PCs are lower than a year ago, according to NPD. The higher pricing also directly ties to brand, which affinity Apple has increased through its retail stores and success of products like iPod and iPhone. Today, Apple topped BrandZ's annual list of most valuable brands during 2010. "The brand increased in value by 84 percent to $153.3 billion," according to the report.
For Apple there is an integral relationship between brand and equity -- the value consumers are willing to pay to join the Apple Fan Club, which is more true for computers than any other product the company sells. The starting price for notebooks is $999 and $1,199 for desktops -- Apple unveiled new iMacs last week. Windows PCs are cheap, by comparison, selling for as little as $200. A surprising number of people are willing to pay more for Macs -- the Apple brand, really -- which shows up in average selling prices.
The ASP for Windows desktop PCs selling at U.S. retail in March was $515, down from $527 a year earlier. Windows notebook ASP: $505, down from $526, according to NPD. By comparison, Mac ASPs increased March to March -- $1,366 to $1,403 for desktops and $1,340 to $1,448 for laptops.
Stephen Baker, NPD's vice president of industry analysis, puts the ASPs in broader terms: "What is really most important is we are at a state of relative parity in pricing for both Macs and PCs. If you want a desktop or a notebook there is very little, or no pricing penalty (on average) for choosing one or the other. I think that is the real lesson as to what has happened to pricing over the past few years and what todays end result is."
It wasn't that long ago when notebooks commanded a price premium over desktops, even when offering lighter configurations. What hasn't changed is the premium some people are willing to pay for Macs over PCs. If anything, the pricing differences are greater.
Joining the Apple Fan Club for Less
By volume, Windows PCs easily outsell Macs. But Apple is more likely to cash in its brand to convert Windows PC buyers to other products, namely iPad. Globally, PC shipments fell 3.2 percent year over year during first quarter 2011, according to IDC, while Gartner put the decline at a less anemic 1.1 percent. Gartner had predicted 3 percent growth, while IDC expected 1.5 percent growth. "Weak demand for consumer PCs was the biggest inhibitor of growth," Mikako Kitagawa, Gartner principal analyst, says in a statement issued last month. "Low prices for consumer PCs, which had long stimulated growth, no longer attracted buyers."
In mature markets, Windows PC manufacturers have backed themselves into a tight space. Prices can't go much lower, and even if they did, consumers aren't likely to buy yet another computer. They're pining for something else. "Consumers turned their attention to media tablets and other consumer electronics" -- away from PCs during first quarter, Kitagawa says. "With the launch of the iPad 2 in February, more consumers either switched to buying an alternative device, or simply held back from buying PCs."
The iPad's allure is as much about brand as the product, and Apple's success building consumer confidence and cache around being cool. The BrandZ "Top 100 Most valuable global brands" report puts iPad in the broader context of cloud-connected mobile devices, what I've been saying for years will supplant personal computers and reaffirmed in February post: "The PC era is over." From the BrandZ report:
Apple continued quietly developing a cloud and loudly discovered an empty space in the computing category that it filled with a new device -- the iPad. In the last quarter of 2010, Apple sold more iPads than Mac computers. The iPad, which quickly met competition from other tablet makers like Samsung, helped Apple pass Dell and HP in total portable computer sales. An Apple cloud would further strengthen the brand as a trinity of platform, content and device.
According to Nielsen, Apple's tablet market share in the United States is 82 percent, and buyers are changing habits -- dramatically. Among tablet owners, 32 percent use desktops less and 30 percent laptops less -- 3 percent and 2 percent not anymore, respectively. Remember, since eight out of 10 tablet owners have iPads, the behavioral changes skew towards them.
Looked at another way, Apple has lowered the entry price to join the fan club -- to be cool. Now the cheapest Mac you can buy is the $499 iPad 2 (prices go up to $829). Analysts are divided over how to classify iPad. For example, Gartner and IDC don't regard the tablet as a PC, while Canalys does. But, ultimately, the debate is moot, if iPad pulls away Windows PC sales, which Gartner acknowledges is the trend.
Assessing Apple's Brand Value
Apple's brand strategy is multifaceted, but one part is often overlooked for its importance. A decade ago this month, Apple opened its first two retail stores -- in Virginia and California. I covered the opening of the first retail store at Tysons Corner Center in McLean, Va, for CNET News.com. Ahead of the store's opening, analysts, Mac enthusiasts and Apple dealers debated the branded retail shop strategy. At the time, the United States was gripped by recession and Gateway had started shuttering stores (later closing them all). From a purely profit objective, Apple Store didn't make much sense. But there was general consensus that Apple-controlled retail would promote the brand and sell the Mac lifestyle.
Today, Apple operates more than 300 stores, with plans to open 40 more over the next two quarters. Apple retail stores had 71.1 million visitors during the first calendar quarter, up 51 percent from 47 million visitors a year earlier. The stores provide tremendous brand exposure and focal point for the Apple lifestyle, around digital activities like listening to music and watching, making or sharing videos. The iPad and iPhone add a mobile lifestyle component, extending from the others but more connected through the applications and the Web.
The branding works, and people pay more to be cool.
There's a science to branding, for which logos like Apple's are hugely important. A 2008 Duke University branding study by professors Gavan Fitzsimons, Gráinne Fitzsimons and Tanya Chartrand compared different logos. In a Duke University video, Gavan Fitzsimons explains the study sought to measure "incidental branding" -- very short exposure to brand logos. On a typical day the average person is exposed to between 3,000 and 10,000 different brand logo impressions. "We assume that incidental brand exposures do not affect us, but our work demonstrates that even fleeting glimpses of logos can affect us quite dramatically," he says in a statement.
Researchers subliminally exposed students to Apple and IBM logos. Those exposed to the Apple logo "had a goal to be creative," based on a seemingly unrelated additional task using bricks, Chartrand explains in the video. "Apple has worked for many years to develop a brand character associated with nonconformity, innovation and creativity."
The studies' results could easily apply to anything or anyone that people identify with. They inherit characteristics from the thing or person they attach to. Peer influence can magnify the sense of purpose or belonging. Will using an Apple product really make people more creative over time? Certainly they may feel more creative or feel better about themselves for the brand association. Many people feel good enough about Apple's brand to pay much more for a Mac than a PC.