Hands-on with Samsung's first iPad-sized Android tablet: Galaxy Tab 10.1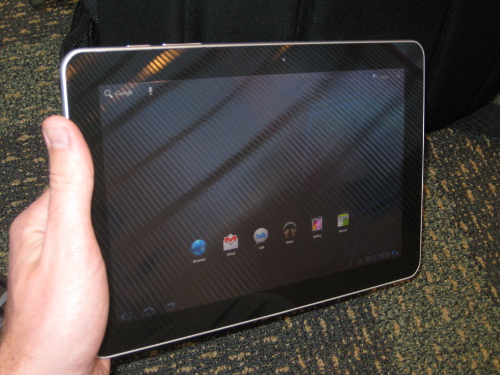 For the last three years, Google has given away pretty desirable free gifts to attendees of the Google I/O developer conference, and this year is no exception. The more than 5,000 attendees this year received a limited edition 10.1" Samsung Galaxy Tab.
<!image id=6673 center>
This is the same device that Samsung unveiled last month at the CTIA conference, but <!article id="1300809254">left untouchable under plexiglass shields. Now, a handful of people have access to the device before it is released on June 8th and that includes Betanews.
<!image id=6676 center>
The slim Galaxy Tab feels very much like the iPad 2 in terms of weight and size, but is meant to be oriented in landscape mode, fundamentally changing the way it is held and interacted with. Out of the box, it's equipped with Android 3.0.1 (Honeycomb), and the dual 1GHz core processor handles it quickly and nicely.
<!image id=6677 center>
Like Samsung's other Galaxy devices, the 1280 x 800 screen is bright and beautiful and a major, major strong point for the 10.1. The back side of the device is adorned with an I/O custom Android theme, but on production models is likely to be in solid black or white.
<!image id=6674 center>
All in all, it is an extremely high quality piece of Android hardware, and it promises to have an exciting future with the <!external href="http://developer.android.com/sdk/android-3.1-highlights.html">release of Honeycomb 3.1 and HSPA+ connectivity with the carrier-subsidized 3G model (this version is Wi-Fi only).