Why is Microsoft buying Skype?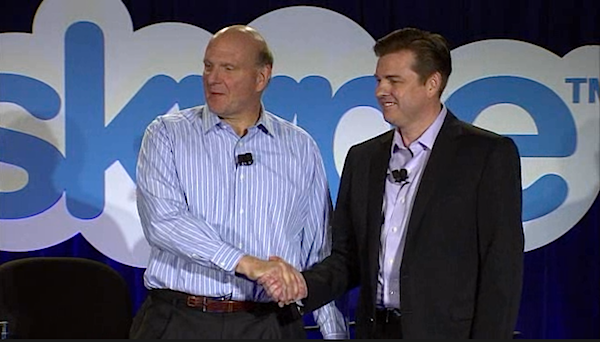 Steve Ballmer and Tony Bates explain, in a video-teleconference that took place late this morning. While this sounds cliché, the deal is about synergy around personal communications -- for work and home -- and the direct sales and potential advertising possibilities, particularly video.
Additionally, and this is something Ballmer only alludes to: Skype fits nicely into Microsoft's three-screen strategy around the TV, smartphone and PC.
As previously reported, Microsoft is spending $8.5 billion -- all cash -- to buy Skype from investment firm Silver Lake. When the deal closes, assuming regulatory approval, Skype will become a separate division of Microsoft.
The acquisition, which was unexpected, is groundbreaking for Microsoft and perhaps in some small way rectifies a past mistake. In early 2005, Microsoft passed on an opportunity to buy YouTube for $500 million. Google snatched up the video service for $1.6 billion in October of that year. Microsoft chose to build rather than to buy a video service, which later proved to be a huge mistake.
Now video is front and center again, but instead of impersonal content posted for the world to see, Microsoft is betting on intimacy -- whether personal or professional communications. Sometimes you build and sometimes you buy, Ballmer, Microsoft's CEO, says. Advertising will be one of Microsoft's core objectives for monetizing Skype.
"We think advertising is a very powerful monetization stream for us," says Bates, who is Skype's CEO and will be president of the Microsoft Skype Business Division, when the deal completes later this year (timeframe given by both companies, again, subject to regulatory approval).
<!image id=6667 center>
Microsoft and Skype had already been pursuing an advertising deal, which helped precipitate the acquisition. "We have even more to do together as a single company." Ballmer says. He describes the offer to buy Skype as unsolicited. The companies agreed on the price in mid-April and signed the definitive agreement last night.
Microsoft is using overseas cash to make the purchase -- and, yes, the $8.5 billion is all cash. Ballmer says this isn't so unusual since Skype is based in Luxemburg.
"I'm excited about the Skype business," Ballmer says. "Skype is a great business."
Ballmer and Bates both emphasize Skype's business potential, noting:
170 million connected users
600,000 new registrations per day
30 million average concurrent users
40 percent year-over-year EBITA growth
20 percent year-over-year revenue growth in 2010
45 percent compound annual growth rate for video ads
207 billion minutes of voice and video calls made during 2010
Both men emphasize the importance of video, with Bates boasting: "Video is in our DNA." Video accounts for about 40 percent of calls now made using Skype, regardless of device. Again, video advertising will be a priority, with Skype already claiming to display 5 percent of U.S. video ads.
Bates describes Skype as an "engaged user base" -- or what he calls "hundred-hundred club." That's 100 million users a month and 100 minutes average on Skype a month. Skype's  priorities related to its users: core communications, subscription premium services and advertising.
<!image id=6668 center>
From Microsoft's perspective, integration will be a top priority, as Skype functionality connects to Lync, Outlook and Xbox Live, initially, and also to Windows Live Hotmail and Messenger. Skype is better known as a consumer product, while Microsoft's Lync is about business communications. Lync is "off to a fantastic start." Ballmer says, with Lync revenue up 30 percent in fiscal third quarter. Skype will become part of that, he emphasizes.
The theme for Skype is similar to Office -- providing tools bridging overlapping personal and professional lifestyles. Microsoft wants to offer "tools that help you communicate to everybody in your life," Ballmer says "Skype joins quite naturally. It fits in with work and home." Stated differently: "People do have one life." Microsoft wants to "stitch together" home and work lifestyles.
In my earlier analysis of the Skype acquisition, ahead of the video conference, I identified five benefits to Microsoft:
1. Brand affinity and global reach
2. Extending Microsoft's real-time communications investments
3. Video on Nokia handsets running Windows Phone
4. Keeping the PC relevant
5. 4G networks boosting video's appeal
<!image id=6669 center>
Ballmer's and Bates' emphasis on video advertising and bridging work and home lifestyles add two more to the list. But there is another, and this relates to Microsoft's three-screen strategy: Television. Ballmer describes a situation where someone could participate in a family event from afar, on the TV connected to Xbox using Kinect. While not the same as being there, the video chat would be much more like it before a big-screen TV and motion-response from Kinect. "We're already on 50 million TVs today," Bates emphasizes. Kinect and Xbox would be a big next step.
I ended my earlier analysis with two unanswered questions. The first: whether or not Microsoft would continue to offer Skype on multiple platforms or not. "We're committed to the Skype user base" -- now and into the future. Ballmer emphasizes, stating there would be continued support for "non-Microsoft" platforms. Bates describes support for multiple platforms as "absolutely critical."
The other question is about carrier conflict. Would carriers balk at Windows Phone and Skype together, offering free calls on their networks and choking bandwidth with video? Ballmer says he received calls from several carrier partners this morning, and they are "enthusiastic" about the acquisition. Oh yeah? Well, did they Skype?