Hands on with the first Chromebook, Samsung Series 5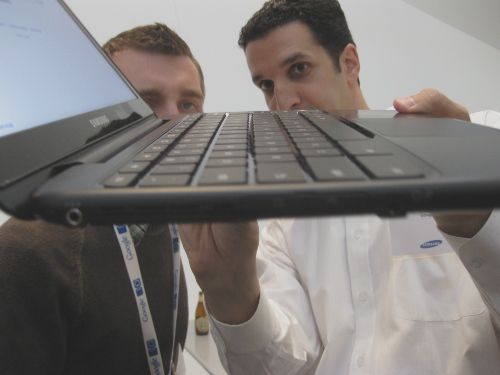 Just a few hours after Google announced the first "Chromebooks" (and the fact that all Google I/O attendees will be receiving one within a few weeks,) we got to go hands on with Samsung's Chromebook Series 5.
<!image id=6702 center>
With a 12.1" screen size and a weight of 3.3 pounds, there's no debating that Google is going for the notebook form factor with its Chromebook design. Even though they intend to be connected to the net at all times, these are by no means netbooks.
<!image id=6701 center>
The series 5 features smooth, rounded edges on both the top and bottom of the chassis and a nice, balanced feel. Unlike a notebook with a 6-cell battery that offers 8-12 hours of uptime, but has an awkward heft to it, the Series 5 can have up to 8.5 hours of uptime and feels even and comfortable in the hand when closed.
When open, the keyboard is full-sized, and offers Chrome-centric function keys that are tailored to high speed web usage: back, forward, reload, full-screen, window, brightness, volume and mute. As a PC user would hope, Chromebooks also include familiar keyboard shortcuts for navigation and common tasks.
<!image id=6705 center>
The ports on the series 5 include two USB ports, SD/SDHC/MMC card reader, SIM port for GSM wireless networks, and an awkward mini-VGA port, which representatives from Samsung and Google both incorrectly referred to as a <!external href="https://discussions.apple.com/servlet/JiveServlet/showImage/2-15056532-2935/300px-Mini_DisplayPort_on_Apple_MacBook.jpg">"mini displayport".
<!image id=6704 center>
Since we're expecting to have one of these in our posession in the near future, we'll follow up with more information, but despite the initially limited functionality presented by Chrome OS, the Samsung Series 5 actually looks like a high quality notebook for the price (Wi-Fi + 3G $499.99, and Wi-Fi only $429.99)