Now you can easily search NirSoft utilities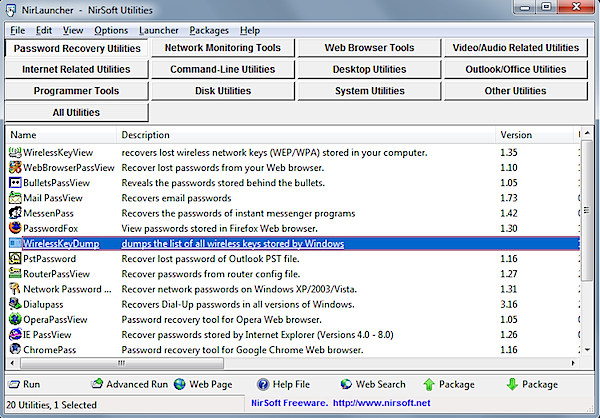 NirSoft is famous for creating some of the best free Windows utilities around: tiny, portable and packed with useful features. If you'd like to sample what the company has to offer then you could spend an hour or two browsing the site, individually downloading anything that appeals. But it's probably easier to simply grab a copy of NirLauncher, which crams more than 130 of the best NirSoft tools into a portable, easily accessible package.
We're not just talking about a zip file holding the various executables, either. NirLauncher also provides a front-end menu that organizes its tools into categories like Password Recovery, Network Monitoring, Disk Utilities, System Utilities and more, making it much simpler to locate the particular programs that you need.
This approach may also help to highlight interesting NirSoft tools that you hadn't noticed before. There are utilities here to capture streaming videos, for instance. OfficeIns displays all your installed Microsoft Office addons, and allows you to enable or disable them. And you'll also find tools to extract resources from executable files, troubleshoot system crashes, access and display the DNS records of specified domains, retrieve S.M.A.R.T. information from compatible hard drives, recover lost passwords from email or instant messaging programs, and carry out many other essential functions.
Some of the tools can be quite complex, but fortunately they all have Help files that will explain everything you need to know (just click the program description to find out more). Each tool can be launched normally, as an administrator, or with your own choice of command line parameters, environment variables and more, simply by choosing the appropriate right-click option.
Perhaps most interesting of all, you can even add the full set of Sysinternals utilities to NirLauncher, and then access both sets of programs from the same interface -- very useful if you're looking to create the ultimate in portable troubleshooting toolkits. It only takes a moment, and a page at NirSoft has the details on what you'll need to do.
Get more applications news like this at Software Crew.