Got Android? Get Firefox 5 beta, but don't expect Flash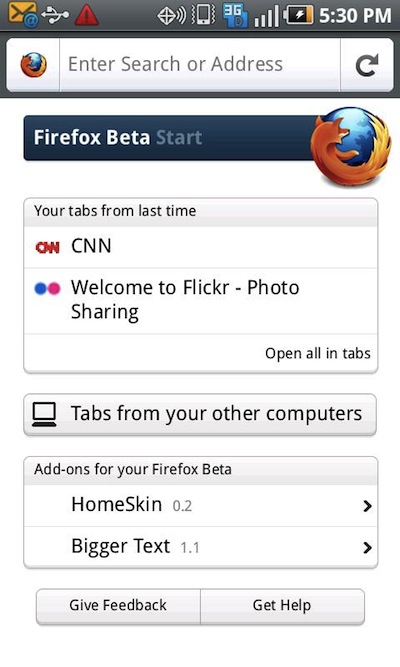 The final version of Firefox 4 hardly seems to be been available for all that long and hot on its heels is the beta version of Firefox 5. As well as being made available for desktop platform, Mozilla released Firefox 5 for Android beta. While there are not major new features to get excited about, there's still enough to make it worth checking out.
Performance is impressive in the beta, and it is clear that a good deal of work has gone into squeezing the best possible page load times out of any connection, be it 3G or WiFi. Mozilla is obviously also very keen to blur the boundaries between mobile and desktop web browsing, and the Android version of the browser does a great job of mimicking its big brother.
Users concerned about privacy will be pleased to see support that the Do-Not-track header has been added. Features such as the Awesome Screen, support for synchronization with the desktop version of the browser and add-on support mean that while Firefox 5 for Android beta is not perfect, it is certainly one of the better mobile browsers currently available.
The more open nature of the Android platform when compared to the likes of iOS means that not only are mobile versions of Firefox a possibility, they can very closely mimic the features of their desktop counterparts. However, there is one major area where the mobile version is lacking: Adobe Flash support is simply not present.
<!image id=6822 center>
The Firefox 5 mobile beta is compatible with a range of Android devices, and a complete list can be found at http://www.mozilla.com/en-US/mobile/platforms/. To find out more about the app and to download a copy of Mozilla's latest Android browser, pay a visit to the Firefox 5 for Android beta review page.
Get more applications news like this at Software Crew.