Payments and the disappearing cash register: Your phone is your wallet

Betanews is taking an extended look at how mobile and wireless technology are affecting retail and the exchange of money between consumers and businesses. We'll be examining such trends as the shift to digital payment systems, near field communications (NFC), new concepts in retail cash registers, as well as Point of Sale software and retail data management and security. All of these factors will contribute to the eventual obsolescence of the old-fashioned cash till.
For more than six years, Visa has offered a contactless, NFC-based (near field communications) payment system in select North American markets. This Fall, as a part of its new Digital Wallet initiative, this contactless payment system will be available to customers across the United States.
With the Digital Wallet, Visa is striving to make all non-cash purchases as simple as possible. For web-based commerce, that means eliminating the steps where you have to enter your credit card information and billing address, and condensing identity into a single login and user ID. For person-to-person payments, social networking payments and microtransactions, it means broader compatibility with different financial institutions, and a simpler way to engage with them. And for interaction with point of sale terminals, it means giving users the ability to pay simply by holding their NFC-enabled smartphone to a PayWave terminal.
The main driver behind Visa's NFC push is to provide the consumer with a faster and more convenient experience in environments where speed is of the essence. NFC's adoption at the Point of Sale first began in cities like New York, Boston, Washington DC, and San Francisco, where there is a lot of foot traffic.
The first merchants to really embrace this sort of technology were fast food restaurants, convenience stores, and 24-hour drug stores. In those environments, every second shaved off of a transaction makes a big difference, and in metropolitan areas where the cost of living expense is higher, having more employees on the clock gets very expensive.
We recently talked to Visa's Elvira Swanson about PayWave and NFC in general to get a feel for what consumers can expect.
"In many ways, cash is inefficient because it puts the clerk at these stores behind the counter in a situation where he has to get into the till, give change, and interact with the customer when they could have been fulfilling the order," Swanson said. "By putting a POS terminal that allows the customer to do a self-initiated transaction, it frees up the clerk from behind the counter to fulfill the order."
If high volumes of foot traffic encourage the use of NFC, then public transportation encourages it even more.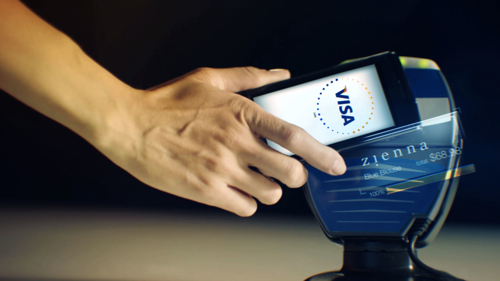 "Transit operators are looking at contactless technology in general as significantly helping their operations. Not only does it facilitate easy entrance into a pay gate for a subway, bus, or train, but it allows the transit operator to eliminate fare media, paper tickets, tokens, and so forth, which cuts back on their expenses," Swanson said. "From there, it begins to grow. If you have a contactless transit system such as the one we tested on Lexington Line of the New York Subway system, you then get merchants whose business is based on passengers of that system also picking up contactless transaction technology. Consumers who use it to get on the train will then be able to use their contactless card or NFC-enabled phone to buy a newspaper or pick up lunch."
The main reason for a company like Visa to get into contactless payment is that it helps them break into merchant segments that have been cash-dominated for the last few decades. This includes the quick-sale businesses mentioned above, but also things like vending machines, parking meters, and retail kiosks.
In short, the benefits of NFC-based payments are the following: consumers get in and out more quickly, businesses can conserve manpower, and the payment companies can reach into new segments of commerce.
But While Visa makes your phone into a wallet, Mobile payments company Square is making your phone into a cash register.
Square, which gained quick popularity for its credit card-scanning iPhone accessory and related person-to-person payment service, announced a new piece of software on Monday called Square Register for iOS and Android.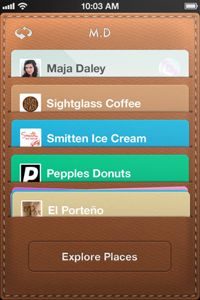 Square Register is a Point of Sale application for smartphones, where businesses can perform checkouts and print receipts, manage their inventory, check transactions, and update prices. Along with Square Register, the original Square app will be updated to include a new feature called Card Case which enables one click real-world purchases on a user's phone without the need for NFC. When a business has the feature activated, users can call up the business' menu or inventory, click to buy, and receive their order without a credit card or cash on hand. The transactions are 100% web-based.
"Cash registers and credit card terminals are relics of an expensive, complicated, and impersonal commercial transaction system," said Jack Dorsey, CEO of Square. "With Register and Card Case, we're transforming everyday transactions between buyers and sellers into something special," said Dorsey.