Will Steven Sinofsky break the Windows 8 silence?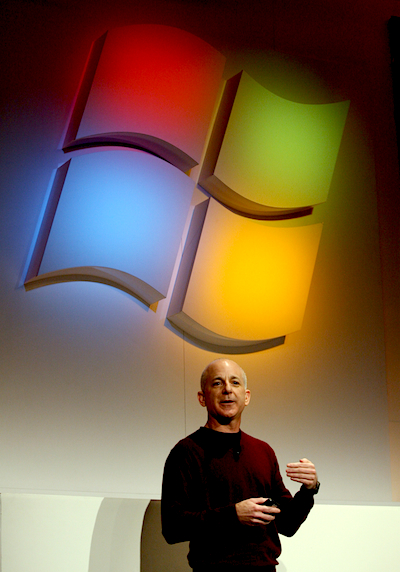 Just eight days before the D9 conference kicks off in Rancho Palo Verdes, Calif., Steven Sinofsky, Microsoft Windows & Windows Live president, has agreed to participate. Talk about booking gigs at the last minute. Speakers for a conference of this calibre typically book many months in advance. Could it be Sinofsky has something important to say about Windows 8?
Microsoft already is gearing up for the operating system's launch. Today, in remarks made during the Microsoft Developer Forum in Tokyo, CEO Steve Ballmer described the next version as "Windows 8." Ballmer told attendees: "As we look forward to the next generation of Windows systems, which will come out next year, there's a whole lot more coming. As we progress through the year, you ought to expect to hear a lot about Windows 8. Windows 8 slates, tablets, PCs, a variety of different form factors."
D Conference co-organizer Kara Swisher announced Sinofsky's D9 participation in a blog post today. She describes his addition "to an already heavy-duty line-up of speakers...including Google's Eric Schmidt, Bob Iger of Disney, Silicon Valley legend Marc Andreessen, Netflix's Reed Hastings and more." D9 runs from May 31 to June 2.
Windows 7's D6 Debut
Three years ago, at D6, Microsoft gave the first big sneak peak of Windows 7. Given that Microsoft is now on a 3 to 3.5 year development cycle for Windows, timing is about right for a splashy Windows 8 debut -- that and today's Ballmer confirmation of 2012 release.
During D6, Julie Larson-Green, Microsoft's corporate veep for Windows Experience, showed new user-interface elements, including multitouch capabilities. Larson-Green led the team that revamped the Office UI with the ribbon motif.
Microsoft CEO Steve Ballmer described the demoed features as the "smallest snippet of Windows 7." What looked like big features then really turned out to be "smallest snippet" later on. Apple's iPhone, launched less than a year earlier, had made multitouch all the rage. But touch has yet to really take off on Windows -- for many reasons, exhaustion being one of them. People tend to tire easier when using touch on a vertical or near-vertical display. The technology demoed better than it proved practical for the Windows mass-market.
Why Here?
Why not here is perhaps the better question. Microsoft is a regular D Conference attendee, and the event is hugely promoted and reported. Some other reasons:
D Conference, run by Walt Mossberg and Swisher, is a gathering of "Who's Who" business leaders and technology influencers/pioneers. Microsoft should want to be there -- or be square.
Microsoft is rumored to be incorporating at least parts of the ribbon into Windows 8. D9 is the right audience for showing off the motif changes, as was D6 three years ago.
Windows support for ARM chips is a big deal, and D Conference is a venue where big deals are made. Watch for even more demos of Windows 8 running on ARM-powered mobile devices.
Apple CEO Steve Jobs is on medical leave and won't be attending. His absence and Apple's Mac OS X silence before its developer conference make D9 right place to wow and influence the biz and tech elite.
Why Now?
Microsoft could easily wait until its September developer conference to take the wraps off Windows 8. Some reasons why not and why not wait:
Windows 7's D6 debut occurred around the same time in 2008 as Windows 8 in 2011. Given Ballmer's 2012 shipping date, the timelines sync and possibly foreshadow when to expect Windows 8. Windows 7 shipped in October 2009.
It's about oneupmanship. Apple's annual developer conference starts June 6, where Mac OS X 10.7 -- aka "Lion" -- is expected to make its grand debut. Microsoft can try to steal some of Apple's thunder, just days earlier.
Microsoft isn't worried about Windows 8 disclosure hurting Windows 7 sales. The company recently revealed selling 300 million Windows 7 licenses.
The bigger bulk of Microsoft volume-license renewals occurs right now through July 31. Businesses might be more more likely to make another three-year Software Assurance commitment if they get a taste of what Windows 8 will offer.
Sinofsky's challenge will be wooing the crowd -- generating excitement about Windows 8 before rival Apple says boo about Lion. In business perception is everything. While Windows has enormous PC market share, many perceive Microsoft and the operating system to be in decline. D9 is right place and time for Microsoft to reset perceptions. Can Sinofsky deliver? We'll know next week. For now, what do you think? Comments await your responses.
Photo Credit: Microsoft