We can run Android apps in Windows, says newly-funded BlueStacks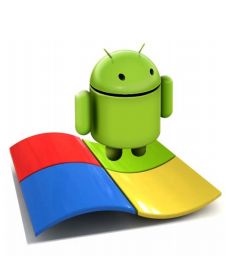 After working for nearly three years on a solution for delivering Android applications on systems with x86-based processors, Silicon Valley company BlueStacks today has officially "opened for business" with $7.5 million of series A funding.
BlueStacks started simply enough. After playing with her father's Android phone, the child of one of BlueStacks' founding engineers asked if she could get those apps on her MSI netbook.
And in short, that's what BlueStacks has done with virtualization and shared drivers. Android apps can run either as apps or as icons on the Windows desktop, or the whole system can switch from Windows to the Android OS. It is an ideal solution for convertible notebooks. In notebook mode, you can run Windows, and in tablet mode, you can run Android.
"From the naive user's point of view, these are all just apps," said BlueStacks President and CEO Rosen Sharma. "They don't care if it's webOS or Windows or Android or that it's virtualization. In the end, it's just an app."
The BlueStacks solution has <!external href="http://www.slashgear.com/bluestacks-is-androids-parallels-for-windows-04144132/">impressed testers already, but more importantly, it has impressed manufacturers.
"We began talking to OEMs, and the reaction was violently positive," said Sharma, "I have no other way to describe it. We are an unknown entity, but every company we met with was tremendously interested, saying 'okay, we want it next week…why do we have to wait three weeks?'"
"At this point, I'm just looking at Apu [Shumar, SVP of Sales] and Apu is looking at me, and we're like 'what the hell is going on here?'" laughed Sharma. "I've been doing business for seventeen years, and it usually takes a year of meetings to get that kind of interest."
Now officially <!external href="http://www.bluestacks.com/">out of "stealth mode", BlueStacks will be showing off its Android + Windows solution at Computex in Taipei beginning on May 31.