Maybe Steve Jobs should reconsider the iPhone radiation app after all

Now that the World Health Organization and The International Agency for Research on Cancer have classified mobile RF radiation a Class 2B carcinogen, it might be time for Steve Jobs to reconsider his interest in tawkon, the cell phone radiation gauge he personally rejected from the iTunes App store.
Israel-based Tawkon Ltd. has devised an application that turns a smartphone's RF baseband processor data into an an easy-to-read graph that tells you roughly how much radiation your mobile phone is emitting. Though the developers had several "encouraging" meetings with Apple executives, and the app was already available both for BlackBerry and Android, the app was ultimately rejected by Apple CEO Steve Jobs.
In March they released tawkon for iPhone the only way they could: for jailbroken models.
Today's announcement from the World Health Organization serves not so much as vindication for tawkon, but rather as an official stamp of approval that there is a scientific reason that someone would want to use their app.
"The current WHO findings were our motivation back in 2009 for creating the tawkon application that monitors users exposure to cellphone radiation (SAR) and helps users' lower their exposure to cellphone radiation with simple action prompts like changing locations, changing phone orientation from vertical to horizontal, activating speakerphone, among other simple actions," Co-founder of tawkon, Amit Lubovsky told us today.
Lubovsky said the WHO's announcement should be especially relevant to avid phone users, and young people who already use their phones a lot, and will therefore be exposed to RF radiation over a much larger portion of their life than their parents.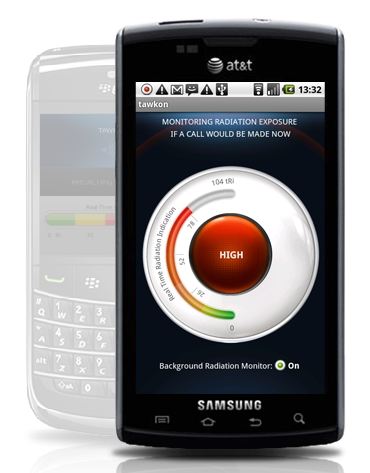 "All cellphone users are exposed to non-ionizing radiation," Lubovsky said. "Our vision of healthier phone usage would ideally be to protect all cellphone users with tawkon. Right now, while we're developing this app independently, we're limited to supporting selected BlackBerry, Android and iPhone (via Cydia) devices. However, we could support all cellphones with the manufacturer's cooperation -- which we expect will now be higher on their agenda following the WHO's statement."