SanDisk unveils 128GB mobile tablet module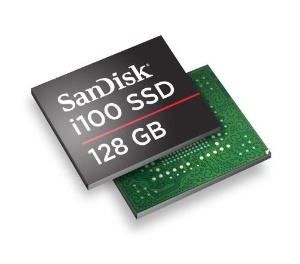 Currently, a mobile tablet is likely to offer on-board storage in one of three sizes: 16GB, 32GB, and 64GB. At Computex in Taipei today, SanDisk revealed a new SATA III SSD for mobile tablets and ultraportables that bumps storage up to the 128GB generation.
Sandisk's i100 drive is part of the company's integrated storage device series (iSSD) especially designed for tablets and ultrathin notebooks, which debuted last year. Claiming to be the world's smallest, fastest 128 GB SATA III BGA SSD, SanDisk says these units require as little as 10mW of power when their parent device is in sleep mode.
The i100 is now sampling for manufacturers, and SanDisk will begin high volume production in the third quarter of 2011. This means we'll be likely to see mobile tablets with 128GB of onboard storage in the early-mid 2012.