Live in New York City? Samsung Galaxy Tab 10.1 could be yours next week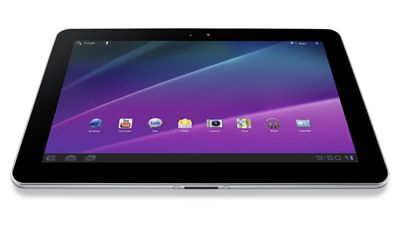 In a smart, and perhaps risky, marketing move, the Galaxy Tab 10.1 will be available early -- that's June 8 -- at one store in the United States. Otherwise, the tablet goes on sale June 17 nationwide. Will the Android Army line up for the Tab? Samsung should hope so.
Samsung says that a "limited quantity" of Galaxy Tab 10.1 WiFi models will be sold at Best Buy Union Square, in the great NYC. You're a lucky sod, if an Android fan and living in the New York metro area or planning to travel there next week. I dunno what kind of customer-waiting line the Tab could draw on a Wednesday, but, hey, it's the kind of thing that could be a marketing coup for Samsung and the tablet.
Samsung is one of the few manufacturers with brand awareness and marketing-and-distribution wherewithal to take on iPad. As I explain in January post "Why is iPad successful," Apple launched its tablet with huge manufacturing, distribution and third-party support, something it didn't have with iPod and less of with iPhone. Samsung's position is both stronger and weaker. The South Korean manufacturer doesn't have retail stores like Apple but it has the advantage of supplying many of the most important tablet components (many of them for iPad 2). At the least, Samsung can match Apple on price -- something that is more difficult for most other competitors to do. The Galaxy Tab 10.1 WiFi, like the comparably entry-level iPad 2, sells for around $499.
Samsung's ability to compete on price and features coupled with iPad 2 supply constraints make the single-store prelaunch something of an event. If bloggers and reporters, particularly broadcast media, don't show up shame on them. It's a story whether there's a line or not -- success or bust. Surely the venue is no accident. Whether Wall Street analysts or investors or morning talk shows (Hey, how about MTV, Samsung?), New York is right place during the midweek hump news day.
Apple's lead in the media tablet category is measurable, with market share around 80 percent by most analysts' measures. Apple also has formidable platform advantage, with tens of thousands of apps and large, supportive base of developers. While Samsung is providing some interesting social and media functionality to Android 3.1, Google is the operating system's master. The platform is way short of iOS in terms of developers and applications.
Samsung announced the Galaxy Tab 10.1 in February, putting the tablet through kind of a makeover after Apple announced iPad 2. Meanwhile, Google made a graceful pullback with Android 3 "Honeycomb," claiming in late March that it wasn't ready, even though the mobile operating had already shipped on the Motorola XOOM. Galaxy Tab 10.1 will ship with Android 3.1, which Google says is ready for the masses.
"Ensuring that the Galaxy Tab 10.1 launched with Android 3.1 Honeycomb was part of our constant commitment to meeting the needs of our customers," Dale Sohn, president and CEO of Samsung Mobile, says in a statement issued today.
About two weeks ago, my colleague Tim Conneally posted "An honest appraisal of Samsung's Galaxy Tab 10.1." He got one of the special editions while attending Google I/O. Tim's review is a good primer for anyone considering the Tab as an alternative to iPad 2 -- or even to Moto's XOOM.
Best Buy will start taking preorders for the Galaxy Tab 10.1 on June 8. Starting June 17, the tablet will also be available from Amazon, Fry's Electronics, Micro Center and Tiger Direct, among other retailers. Sprint will start carrying the Samsung tablet around mid-summer.