Xbox 360 may have 'changed the tail,' but Wii turned it into a spike

We'll be attending the annual Electronic Entertainment Expo in Los Angeles this year for one reason above the rest: the possibility of a new Nintendo console that attempts to match the explosive success of the Wii.
Today, Larry "Major Nelson" Hryb posted a blog with some pre-E3 statistics related to Microsoft, the Xbox 360, and the current generation of video game consoles as a whole. Included in his blog is the graph we've embedded below which, shows how each console hits a sales peak and then "tails" off for several years.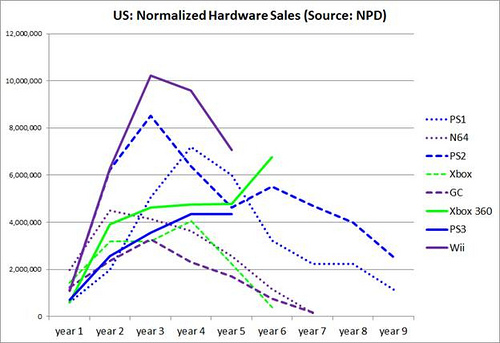 Hryb says Microsoft has "changed the tail" because the Xbox 360's sales have shown a dramatic increase in the console's fifth and sixth years, much later in life than any prior console. This has been attributed to the introduction of the innovative Kinect interface and improvements to the Xbox Live platform.
While all of this is true, Nintendo looks to have changed the tail with the Wii, too. For them, it's more like a spike now.
The graph shows the dramatically high sales of the Nintendo Wii in the first three years have resulted in a heavy drop-off in sales in the last year. This drop off is much more severe than any other console on the graph, and the introduction of a new Nintendo console at E3 this year could cause Wii sales to plummet in year six-seven.
Both the Xbox 360 and the PlayStation 3 are on longer life cycles than their predecessors, and Microsoft and Sony have attempted to slow down the console innovation cycle.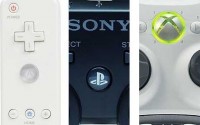 Since the console's debut in 2006, Sony has been absolutely clear that the PlayStation 3 is on a ten-year life cycle, and that prices and updates would reflect this. In 2009, Microsoft's Shane Kim said the Xbox 360 has a similar life cycle that will last until 2015.
If Nintendo can re-create the excitement for a new console that the Wii had for its first three years, it could actually go completely against Microsoft and Sony and SHORTEN the lifespan of its consoles, making them more like the smartphone industry at present.
And with the wild popularity of iOS-based gaming, the growing prevalence of Android, that may not be such a bad idea.