Kno ditches tablet, launches e-textbook iPad app in beta

Just six months ago, we looked at a dual-screen 14.1" tablet called Kno that was being tested with university students. We got to play with the device a little bit, and got a feel for the ambitious goals of its creators. In short, they wanted to make e-textbooks exactly the same as their paper counterparts with the same page numbers, and with the ability to write on the pages.
Unfortunately, one of the main drivers behind the e-textbook movement is their affordability, and the custom Linux-driven tablet hardware was projected to cost students between $600-$900.
With affordability as the key to success, Kno Inc. appears to have changed its trajectory, and on Monday released the beta of a free iPad app called "Textbooks" in which the only cost the student incurs is the cost of the actual text.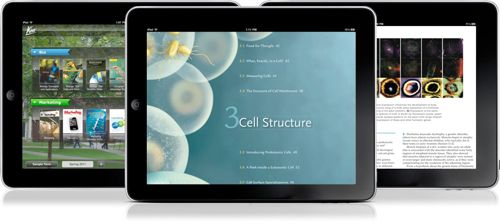 The app is an e-textbook and PDF reader with one-touch highlighting and "sticky note" annotation and in-text/global search functionality. It also includes a course manager that lets students organize documents by class and semester/term, and includes the requisite "social integration" that enables them ask questions, post comments, or share their location with other users.
The app is free in the iTunes App Store and textbooks can be bought as in-app purchases.