Motorola's Photon 4G has a kickstand, and you know what that means...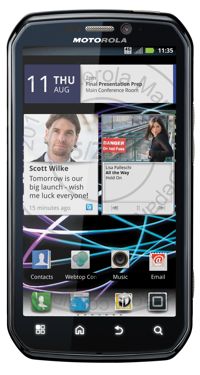 Motorola on Thursday unveiled its first WiMAX-capable Android Smartphone which also happens to be Sprint's first dual-core device from Motorola, Photon 4G.
The specs of Photon 4G are indeed impressive. It has a 4.3" (540 x 960) touchscreen display, dual-core Nvidia Tegra 2 Processor, 1GB of RAM, 16GB of storage with microSD support up to 32GB, worldwide GSM roaming, dual cameras (8MP/720p with dual flash, VGA), Android 2.3, mobile hotspot capability and and Motorola's <!article id="1296796802">impressive Webtop functionality first showcased by Atrix 4G. It is expected to launch later this summer, when Sprint will announce pricing and accessory support.
Even without knowing the device's price yet, it's very easy to see where this device will fit in. It's got power, 4G connectivity, and the thing that has come to be a defining feature for this class of smartphone: a kickstand.
<!image id=7103 center>
It may seem like a classification as pointless as the feature itself, but I have come to regard the presence of a kickstand as an immediate indicator that a smartphone is too big to carry in my trouser pocket.
And though a kickstand comes in especially handy for video chatting or charging, practically every phone with a kickstand has been equipped with one for the purpose of watching video.
I say this because the majority* of kickstand phones have a 4.3" screen (EVO 4G, EVO 3D, Thunderbolt, Photon 4G) and are marketed as the acme of mobile video consumption. While not the absolute largest smartphone screens, they reside in an area the brushes up very closely to being classified as tablets.
The largest screen a device can have and still be called a smartphone is presently found on the Infuse 4G from Samsung which has a monstrous 4.5" Super AMOLED screen. The screen on the Dell Streak, by comparison, is just half an inch larger, and it is classified as a tablet.
That margin of .5" is currently the unofficial dividing line between smartphones and tablets, and the further manufacturers venture into it, the less pocketable your device becomes.
*noteworthy exceptions include the HTC 7 Surround, which has a kickstand to accommodate its stereo speaker, and the HTC Imagio which only has a 3.6" screen, but is billed as being "like having your TV and your computer in your pocket."