Is it child abuse to give my kid a Chromebook?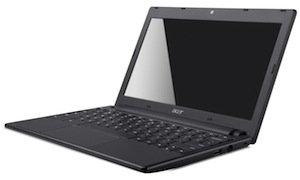 Remember me? <!external href="https://betanews.com/article/Ill-take-Windows-and-a-good-browser-over-Chrome-OS/1305640419">I'm the one who wrote right here at Betanews that Google Chromebooks are a waste -- gimme Windows and a good browser -- just 24 days ago. Gulp. I might have been a little hasty and over-generalized in my perspective. You tell me.
My daughter is nine and coming out of third grade. We've decided she needs to work on her writing over the summer -- on a computer, and learn how better before going into fourth grade.
She already knows how to get into Gmail on her computer (yes, she has her own -- one of my old ones but it's a pretty smokin' system) and send email with it. It's part of a Google Apps account, and I just noticed that she has Google Docs there, and this gave me the idea that she should learn the writing in Google Docs.
So far, I feel on solid ground with the idea: She doesn't need to do anything remotely fancy, so Google Docs will be fine -- and she'll be able to get to her files from any computer on the Internet (or my Android phone). It's easy for me to see her work no matter where I am, and she can cheat on her math homework with the spreadsheet program ;)
But the next step in the chain of logic is: Should she have a Chromebook?
Yeah, I know I wrote before that Chromebook has serious limitations and that users (including her) would be better off with a plain old Windows notebook running the same Google software. Somehow, for my daughter, the simplicity of the Chromebook is tempting -- even if it is, technically, a bad buy.
After looking at <!external href="http://www.amazon.com/gp/browse.html?node=2858603011">the lineup at Amazon the one I would buy is probably <!external href="http://www.amazon.com/gp/product/B00507ALBG/">the Acer Cromia (she's not getting 3G) for $379.99 with free shipping. Of course, "This item has not yet been released" <!external href="https://betanews.com/joewilcox/article/Will-you-buy-Google-Chromebook/1307659967">but that will change soon.
She's got a great desktop computer already. Why does she need anything else? Or I could eat my own dog food and get her a netbook. A quick search found the <!external href="http://www.tigerdirect.com/applications/SearchTools/item-details.asp?EdpNo=322989&Sku=A180-156101">Acer Aspire AS5253-BZ602, which costs less and has far better hardware. Other vendors have similar notebooks for the same price.
And yet, for a 9 year old the simplicity of the Chromebook is alluring. Partly because of its lesser hardware, the Chromebook is lighter (3.3 lbs vs. 5.7 lbs). There are fewer apps so there's less opportunity for her to screw it up. It's certainly vulnerable to attack, but it will be a while before anyone bothers to write malware for it. And if (when?) she loses or breaks it, it's a simple replacement matter because there's no state on the computer. Everything is in the cloud.
They ought to call it the Contradictionbook or the Ironicbook. Compare it side-by-side with just about any netbook and it's a laughably bad deal, and there is literally nothing it does that you can't do on the netbook. Yet it's appealing because there's so much less to it.
Have I seen the light or am I smoking too much crack lately? You tell me. Please do so in comments.
<!image id=5686 left>Larry Seltzer is a freelance writer and consultant, dealing mostly with security matters. He has written recently for Infoworld, eWEEK, Dr. Dobb's Journal, and is a Contributing Editor at PC Magazine and author of their <!external href="http://blogs.pcmag.com/securitywatch/">Security Watch blog. He has also written for Symantec Authentication (formerly VeriSign) and <!external href="http://www.intelligentwhitelisting.com/">Lumension's Intelligent Whitelisting site.