Mozilla Nightly Tester Tools: When you don't mind getting cut on the bleeding edge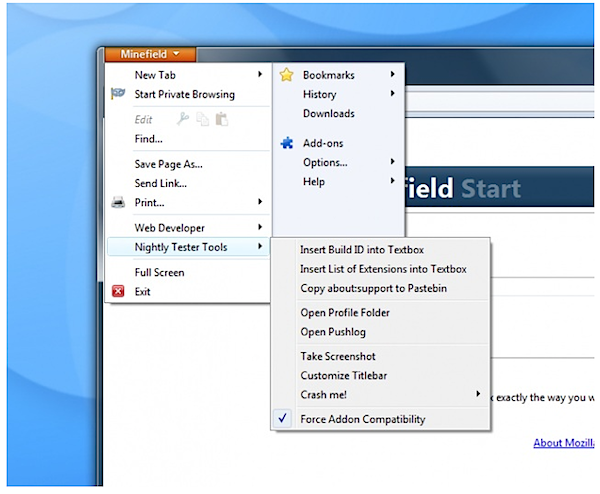 The only reason anyone would want to run a Nightly build of a Mozilla product like Firefox is because they want to help provide a test environment for providing that vital early feedback on a product that's so fresh it's completely untested. This early exposure provides the basis on which Firefox, Thunderbird and its brethren migrate towards the first major milestone in a program's life, the alpha build.
When it comes to evaluating these programs, you need a collection of useful tools to help you test and provide the feedback essential for catching early bugs. And Mozilla provides those tools in the form of the Nightly Tester Tools, a free add-in designed specifically for these early, unstable builds. It works with Firefox, Thunderbird, SeaMonkey and Songbird.
Nightly Tester Tools adds a sub-menu of options giving testers a clutch of useful utilities. It starts by giving you three easy options for adding vital information about your current installation -- build ID, list of installed extensions and the about:support page -- to whatever feedback you give.
There's also an option to force all add-ons to run, essential for testing purposes, as they'll automatically be disabled by the add-ons compatibility checker otherwise. You can also deliberately crash the software via a Crashme! option, which allows you to test the program's error-reporting features.
Other useful tools include an option for reviewing all changes since the last Nightly build was released, plus a screen capture tool for feedback purposes and options for opening the profile folder and customizing the titlebar.
Nightly Tester Tools is available now as a free add-on for Nightly builds of Firefox, Thunderbird, SeaMonkey and Songbird.
Get more applications news like this at Software Crew.