Nvidia closes deal with Icera, acquires baseband tech for Tegra 2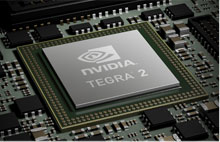 Another major move in the mobile processor space took place on Monday as Nvidia, maker of the popular Tegra 2 applications processor for mobile tablets and smartphones, announced it had completed its acquisition of Icera, a wireless modem company specializing in baseband technology for smartphones and tablets.
The $367 million cash acquisition will give Nvidia an applications processor with bundled baseband and RF chips that will give device manufacturers a single option to cover both of their onboard processor needs in a single package. For example, the Icera modem solution called Espresso 450 for smartphones and tablets uses Nvidia's Tegra processors, includes the radio interface layer for Android, and includes multiband HSPA+, HSUPA, and quad-band GPRS/EDGE radios.
This is a big move for Android tablets especially, where <!external href="http://www.nvidia.com/object/tegra-supertablets.html">Nvidia is a dominant player in applications processors. The Motorola Xoom, T-Mobile G-Slate, New Samsung Galaxy Tabs, LG Optimus Pad, Toshiba Thrive, Asus Transformer, and many more all run on Nvidia's Tegra platform.
On a larger scale, this acquisition reflects the mobile industry's trend toward consolidated applications and baseband processor brands.
In August 2010, for example, Intel <!article id="1283180182">acquired Infineon AG's Wireless Solutions Business group for $1.4 billion, then announced in the beginning of 2011 that it would form a <!article id="1296490618">new mobile communications business based on that group. The move was to help Intel remain competitive in the mobile processor field where it has lost some ground to Samsung, Texas Instruments, Qualcomm and Nvidia.