If you're a juror, don't 'friend' the defendant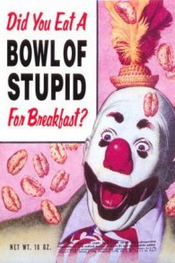 A juror in a drug trial in England will face contempt of court charges for contacting one of the defendants in her trial through Facebook, according to a ripping good story in the Telegraph. Corruption and stupidity compete for space in this episode which also involves a police officer who sold sensitive information to drug dealers for a BMW and Premier League match tickets.
Joanne Fraill, 40, is the juror who allegedly chatted online to Jamie Sewart. Sewart had already been acquitted, but verdicts on other defendants were still being discussed. Sewart also faces contempt charges for asking Fraill for details on the jury deliberations. Both could face jail time if convicted.
The prosecution will claim that the incident caused the trial to collapse, leaving taxpayers facing a bill of more than £6million. It was one of a series of four trials that involved 500 witnesses, 14 barristers, five juries and more than 160 days in court. One convicted defendant is appealing his case based on the misconduct.
There have been cases like this in the US, including one in Michigan in which "the judge removed a juror after a Facebook comment and also fined her $250 and required her to write a five-page paper about the constitutional right to a fair trial." Twitter has also been used by jurors to discuss trials. A Reuters Legal analysis found that jurors' forays on the Internet have resulted in dozens of mistrials, appeals and overturned verdicts in the last two years alone.
I've been on three juries for pretty pedestrian civil and criminal matters, and I clearly recall the judge warning us against discussing the trial outside of deliberations (even with other jurors). I have to imagine these jurors received similar instructions and just figured it wasn't a big deal.
<!image id=5686 left>Larry Seltzer is a freelance writer and consultant, dealing mostly with security matters. He has written recently for Infoworld, eWEEK, Dr. Dobb's Journal, and is a Contributing Editor at PC Magazine and author of their <!external href="http://blogs.pcmag.com/securitywatch/">Security Watch blog. He has also written for Symantec Authentication (formerly VeriSign) and <!external href="http://www.intelligentwhitelisting.com/">Lumension's Intelligent Whitelisting site.