Optimize your SSD with System Mechanic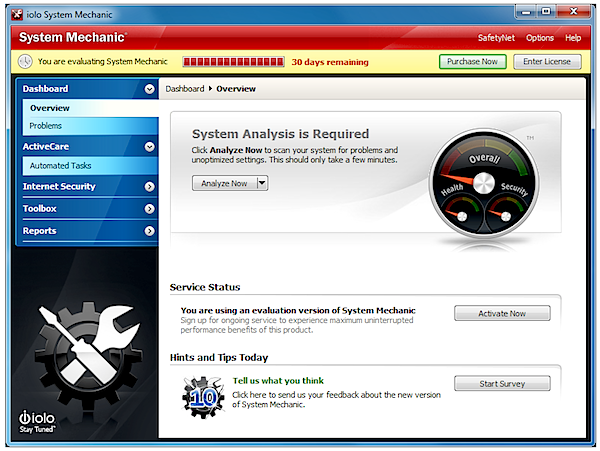 iolo has released version 10.5 of <!detail id=957499743-1>System Mechanic, its comprehensive system maintenance and performance tool. Version 10.5 adds two major new tools to System Mechanic's armory: Designated Drivers and SSD Accelerator. You also receive a comprehensive whole-home license, which covers all the PCs in a single household.
<!detail id=957499743-1>System Mechanic 10.5 also promises enhanced and improved versions of existing components, specifically Tune-up Definitions, DriveAccelerator, Memory Mechanic and -- Professional version only -- Secure Online Backup, which now offers 5GB of free online backup space. In addition to these major improvements, version 10.5 includes "hundreds" of minor improvements too.
Whilst 10.5 is largely a maintenance upgrade, there are two major features added: Designated Drivers enables you to update all of your drivers with a single click, and claims to be the only tools of its kind that uses signed drivers, those that have been tested vigorously, and approved, by Microsoft's Windows Hardware Quality Labs. SSD Accelerator is a component that reflects the growing popularity of solid-state storage, and promises to improve both drive performance and efficiency, the latter helping to extend the life of the drive. SSD Accelerator works in tandem with System Mechanic's other drive tools, ensuring that inappropriate tools for SSD drives (such as the defrag utility) aren't applied.
The previous release, version 10, shipped with a host of major features, including the Program Accelerator. This aligns program files together to prevent them from becoming scattered all over the hard drive, helping improve performance as a result. It's capable of both scanning existing misaligned files and ensuring program files remain together once in alignment.
The new CRUDD Remover component aims to identify and highlight files and programs it considers to be unnecessary, superfluous, redundant or unused, alerting the user to their existence and making it easy to clean up after them. The other new component does exactly what is says on the tin: helps to repair broken internet connections quickly and painlessly.
As well as the major enhancements already mentioned, System Mechanic 10.5 includes improved detection, repair and optimisation features for its PowerTools component offering all-in-one solutions. There are also more automated repair options, and the program promises to launch quicker, thanks in part to the fact individual tools can be opened directly from the program's desktop gadget or Windows 7 Jump Lists.
<!detail id=957499743-1>Iolo System Mechanic 10.5 is available as a trial download in Standard and Professional editions for PCs running Windows XP, Vista or 7. Prices start from $32.95 for the Standard edition. There is also a Premium edition available for $47.95 which adds Drive Scrubber and Search and Recover, both available separately.