RIM ships half million PlayBooks during first quarter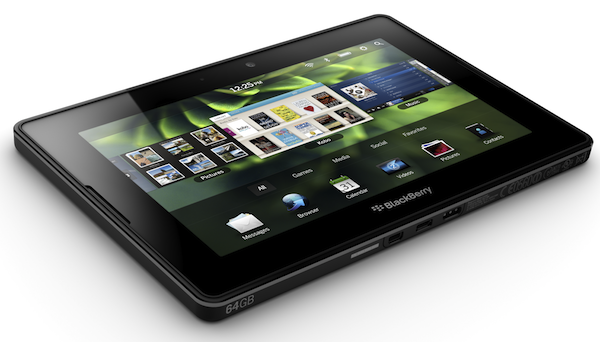 Research in Motion seemingly took forever to ship its first BlackBerry tablet. None too soon. PlayBook was one of the few bright spots during a quarter that foreshadows a grim year ahead.
After the bell today, RIM announced fiscal first quarter 2012 results -- $4.9 billion revenue, up 16 percent year over year but down 12 percent sequentially. Seventy-eight percent came from hardware, 20 percent services and 2 percent software.
Net income fell year over year and sequentially to $695, or $1.33 a share, from $769 million and $934 million, respectively. Analysts consensus was $5.15 billion revenue and $1.32 earnings per share, so RIM missed both.
The company shipped 500,000 PlayBooks and 13.2 million BlackBerries during the quarter, ended May 28. While the three-month periods aren't congruous, for comparison, Apple shipped 4.9 million iPads and 18.6 million iPhones.
RIM launched PlayBook on April 19, making the half million shipments a solid start over about six weeks of sales (and several weeks of preorders). However, shipped doesn't mean sold. The real measure will be fiscal second quarter. Early volumes could mean little more than RIM filling the retail channel with inventory.
Regarding second quarter, RIM offered a somewhat grim perspective. "Fiscal 2012 has gotten off to a challenging start," says Jim Balsillie, RIM Co-CEO, in a statement. "The slowdown we saw in the first quarter is continuing into Q2, and delays in new product introductions into the very late part of  August is leading to a lower than expected outlook in the second quarter."
Short-term problems don't necessarily mean trouble long term says Balsillie. "RIM's business is profitable and remains solid overall with growing market share in numerous markets around the world and a strong balance sheet with almost $3 billion in cash. We believe that with the new products scheduled for launch in the next few months and realigning our cost structure, RIM will see strong profit growth in the latter part of fiscal 2012."
But in a larger statement, the company revealed a grim RIM ahead:
The company also announced that it will begin a program to streamline operations across the organization, which will include a headcount reduction. This realignment will be focused on taking out redundancies and a reallocation of resources to allow us to focus on the areas that offer the highest growth opportunities and align with RIM strategic objectives, such as accelerating new product introductions. We expect to implement this program beginning in the second quarter with the benefits impacting results primarily in Q3 and beyond. Any one-time charges associated with this initiative are not included in our Q2 and full year outlook but will be identified and disclosed when we report our second quarter results.
That means layoffs ahead and consolidation, something Wall Street might perceive more as circling the wagons -- the last line of defense before marauders loot and ravage the settlers. RIM issued a profit warning on April 28 that since sent shares down by about 38 percent. The stock closed at $35.33 today, or the lowest in nearly five years and close to another low in March 2009. RIM shares have fallen before and come back. Will shareholder confidence remain? Tomorrow's trading will tell.