LightSquared cuts base station power by 50% to halt GPS interference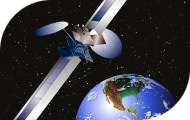 Mobile network LightSquared today said it has a solution to the problem of interference with Global Positioning System (GPS) receivers that will allow the company to proceed with the construction of its new hybrid satellite/cellular data network.
LightSquared has been trying to answer the United States' massive mobile data bandwidth demands by <!article id="1279636429">combining satellite and cellular network services that creatively utilize the free spaces in the L-Band wireless spectrum where it could obtain licenses. But a report last week from the National Space-Based Positioning, Navigation, and Timing Systems Engineering Forum (NPEF) assessed LightSquared's network technology, and found that it caused significant interference to defense and <!external href="http://www.deere.com/servlet/com.deere.u90785.productcatalog.view.servlets.ProdCatProduct?tM=FR&pNbr=7300_PC">agriculture-related GPS satellites.
NPEF's test results indicated that one of the 10MHz blocks of spectrum LightSquared planned to use when it launched its network would create interference for many GPS receivers.
"The report…provides concrete technical data to validate the GPS interference concerns of members of our military and of the House Strategic Forces Subcommittee. LightSquared's operations as currently devised, 'cannot successfully coexist with GPS' and would hinder our service members who are counting on an uninterrupted GPS capability to do their jobs," said House Armed Services Subcommittee Chairman on Strategic Forces Mike Turner last week. "I appreciate the NPEF's work and, based on their recommendations, echo their call for the Federal Communications Commission to move to rescind the conditional waiver issued to LightSquared on January 26, 2011."
Advocates for GPS turned the NPEF's report into a sort of "national defense vs. commercial broadband" debate, which could only have one winner, and which could ultimately result in the new wholesale data network losing some of the regulatory headway it had gained last year.
"Obviously, GPS is a very important national asset; it has dramatically improved the lives of millions of Americans with significant military and civilian applications," a letter to the FCC from a coalition of 30 tech companies said last week. "Nationwide wireless broadband is also an essential and critical initiative; indeed, the FCC's National Broadband Plan seeks to identify 500 MHz of additional wireless broadband spectrum. Rationalizing the Mobile Satellite Services spectrum bands for increased terrestrial broadband use is a valuable mechanism for achieving this goal. Securing both GPS and nationwide wireless broadband should be and can be the goal."
Finally speaking out on the matter, LightSquared Chairman and CEO Sanjiv Ahuja said LightSquared has another 10MHz block of spectrum lower on the band (i.e. further away from GPS frequencies) that is largely free of interference that it can utilize, so it has modified its launch plans to lessen the likelihood of interference.
LightSquared is going to reduce the maximum authorized power of its base station transmitters by over 50%. This will limit LightSquared to the power it was authorized to use in 2005, and will give LightSquared enough spectrum to serve its customer base for the first few years. Though it will still hold the licenses for that upper 10MHz, it will not use that spectrum for the launch of its network as it had originally planned.