Skype 5.5 beta for Windows goes social with Facebook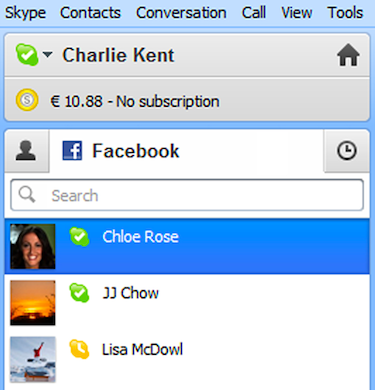 A new Windows beta of its Skype's popular instant messaging and voice and video mail client is now available. If you're one of the 92 percent of online social networkers using Facebook (according to Pew Internet), this release could be for you. Skype for Windows 5.5 Beta big new benefit is deeper integration with Facebook.
These closer ties include the ability to take part in instant chats with Facebook contacts, plus access Facebook news feed within Skype itself. Skype 5.5 also makes it possible to both Like and comment on Facebook statuses. All of this extra integration is rounded off by a new dedicated Facebook tab, which gives users access to all of their Facebook friends.
Skype for Windows 5.5 also sees the debut of a new, resigned Call Control Toolbar, which pops up during voice and video calls. There are also visual improvements when leaving calls on hold, plus an improved experience when saving a phone number in the Call Phones section of the program.
Version 5.5 Beta released three days after the Federal Trade Commission approved Microsoft's $8.5 billion acquisition of Skype, which was the companies announced last month. 
Skype for Windows 5.5 Beta is a free download for Windows users only, and it is recommended for early adopters and developers only. Average users should stick to the final release (currently at version 5.3) instead.
There are also client versions for Mac, Linux and various mobile devices, including iPhone/iPad and Windows Mobile.