Webian Shell: Full-screen browser replaces Windows, Mac OS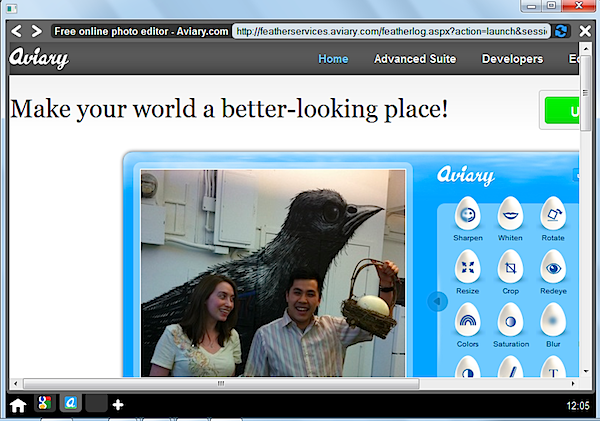 The much prophesized life in the cloud is now all but upon us. Software in its traditional form is still popular, but it is losing ground to web-based apps. Sites such as Google Docs and Aviary, go a long way to proving that working with online applications does not mean having to make compromises. As the Internet is now more important than ever, it is entirely possible that your web browser is your most frequently used program -- something Google is exploiting with its Chromebook. Using Webian Shell, you can achieve the same with your current computer.
The application has really been designed for use on publically accessible terminals that do not need to be used for anything other than internet access, or running a limited number of web apps, but there is no reason that it cannot be put to good use at home. As it is likely that you spend a large proportion of your time online, it seem pointless to clutter you screen with other distractions such as the Windows taskbar or OS X's dock.
Webian Shell can be used with Windows, Linux and OS X, and while it is far from being a complete replacement for your operating system, it sits completely on top of it so you may never need to interact with your desktop. The program is essentially a full screen web browser, which features a tabbed interface. The tabs have been moved to the bottom of the screen into a pseudo taskbar that also features a clock. With a tab dedicated to all of the web apps you use each day, along with the websites you frequent, the program provides an interesting and unique means of using the Internet.
Although Webian Shell is a web browser, as the 'shell' part of the name might suggest, it is intended to be a replacement for your current operating system. Or at least that is the plan for the future. As things stand at the moment, Webian Shell is essentially a full screen web browser that makes it somewhat easier to work with web apps. As things develop, this is definitely going to be a program to look out form and it is well worth checking out in the meantime.
Things are looking pretty good, even at this early stage and you can find out more and download a copy of the program by paying a visit to the Webian Shell review page.