Samsung's Galaxy Tab 10.1 Keyboard Dock is great (when it works)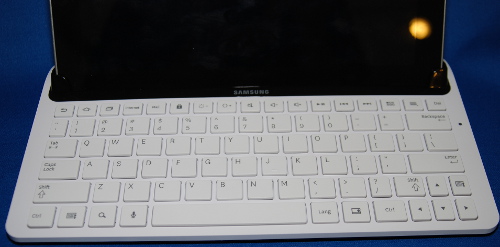 On Tuesday, Samsung announced its accessory suite for the Galaxy Tab 10.1 Android tablet, which includes a desktop dock, a keyboard dock, USB adaptors, and cases available immediately, and an SD Card and USB adaptor and bluetooth keyboard later this summer.
Our traffic numbers tell us that you guys are very interested in Android tablets, so I try to keep an eye out for as much tablet-related information as possible, and ran out to go pick up Samsung's $79 keyboard dock for the Galaxy Tab 10.1 so I could do a quick hands-on review of it.
Imagine my surprise when I get it home, dock the 10.1, and find the keyboard to be completely unrecognized, despite the fact that the tablet is up-to-date and running Android 3.1.
According to the instructions:
"To use the keyboard dock, the mobile tablet needs to have the input method set to Samsung keypad. On inserting the mobile tablet, you will be asked to change to Samsung keypad if it's not already set. Press the OK button to accept this change."
<!image id=7239 center>
The 10.1 was already set to "Samsung Keypad," and none of this happened when I docked the tablet. Instead, it automatically launched the clock that shows up when the device is docked. Pressing the button specifically for hiding/showing the Time/Date and Application indicator did nothing. As a matter of fact, pressing ANY of the keys on the keyboard had no effect.
I could still interact with the touchscreen, but the dimmed full-screen clock app never went away, and got in the way of the homescreen.
I removed and reinserted the tablet a dozen times, I rebooted it, I checked all settings and running processes to see what was getting in the way, I tried plugged in versus unplugged. Nothing made it work and I started to think Samsung had launched a terrible product.
<!image id=7240 center>
This struck me as a magnificent shame because design-wise, the Galaxy Tab 10.1 keyboard dock is exceptional. With comfortably-sized chiclet keys, a dozen Honeycomb-specific navigation keys, and a body that feels sturdy without feeling heavy. Using email or productivity apps like Quickoffice Pro HD (which I have increasingly grown fond of) could really benefit from having a nice quality full-sized keyboard to go along with it.
Then, despite all I had done, it randomly started to work after I had put it aside for a little while, and it hasn't stopped yet. As I had hoped, the full-sized keyboard allows for completely natural, fast text entry, while also taking advantage of Honeycomb's multitasking capabilities. What you're reading right now was written on the Galaxy Tab Keyboard Dock as a testament to its quality.
As always, your mileage may vary.