HTC puts an end to crappy Android cameras with the T-Mobile myTouch 4G Slide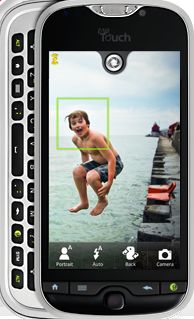 If there's one department where Android absolutely cannot compete with Apple's iOS, it's in the camera. The iPhone 4 has completely shattered any previously held beliefs about low-quality CMOS photography, and is now beating DSLR cameras in popularity. It recently beat the Nikon D90 as <!external href="http://www.flickr.com/cameras/">the most popular camera on Flickr with 4,841 registered users.
Meanwhile, the most popular Android phone on Flickr, the HTC Evo 4G, has only got 523 users. That isn't even in the same league as the iPhone 4, despite the fact that it has an 8 megapixel sensor against the iPhone's five. The reason should be clear to anyone who's used a variety of Android-powered smartphones. From shooting to sharing to editing, the camera experience is always less streamlined on Android than it is on iOS.
On Tuesday, T-Mobile announced the latest in its line of myTouch smartphones, the myTouch 4G Slide, which it is billing as having "the most advanced camera of any smartphone," an obvious move by HTC to improve its position among smartphone shooters where iPhone is king.
The myTouch 4G Slide is an update to the previous generation myTouch 3G Slide, with a similar chassis and landscape QWERTY keyboard, but with a 1.2GHz dual-core Qualcomm Snapdragon applications processor, a 3.7" WVGA touchscreen, and the overhauled camera.
The camera hardware includes an 8 megapixel, backside illuminated sensor with f/2.2 wide-aperture lens and dual LED flash; but the major improvements come in the software. Android's noticeable shutter lag has been improved, one-touch panoramic stitching has been added with "SweepShot," sequence shooting has been added with "BurstShot", and HDR mode has been added with ClearShot HDR. Though myTouch 4G is powered by Android Gingerbread 2.3, all of these improvements are unique to HTC's software. The only improvement 2.3 added in the photography department was by adding support for multiple onboard cameras.
Plotting the Evolution of Android's Camera
<!article id="1253057624">With Android 1.6, "Donut", the Android team unified the camera and camcorder in a single interface and improved launch speed by 39% while decreasing the lag between shots by 28%. This was the first and only camera update that concentrated solely on improving speed and usability.
Later that year, with the <!article id="1256663721">2.0 "Eclair" update, The camera again was tweaked, but this time it included digital zoom (with macro mode), built-in color effects (posterize, solarize, etc.), and support for LED flash.
2.1 included no major feature changes, but "Froyo" 2.2 changed the camera's UI once again, including onscreen buttons for zoom, flash, white balance, geo-tagging, focus and exposure. Camcorder mode also included a new way to set video size/quality for sharing, and support for LED flash while recording video.
Most recently, "Gingerbread," Android 2.3, improved upon FroYo only slightly, adding the aforementioned support for multiple onboard (read: forward-facing) cameras.
In Honeycomb, the tablet-specific branch of Android, The Camera application was redesigned to take advantage of a larger screen, with big buttons for exposure, focus, flash, zoom, front-facing camera swap, and more. It also added built-in support for time-lapse video recording and updated the Gallery app for viewing photos and videos.
By putting the software performance on the same level of importance as pixel density, HTC clearly has a strong grasp of what needs to be done to help improve Android in the world of mobile photography.