LulzSec is gone, but #AntiSec antics live on with new hacks and data dump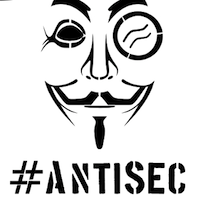 Now operating under the #AntiSec banner, the LulzSec hackers are still busy causing trouble. The latest data dump posted to torrent sites goes after several governments worldwide as well as both Viacom and Universal Music Group.
"While the LulzBoat is still sailing with us (albeit not with the LulzSec flag), the objective of #AntiSec is different," the description of the torrent reads. "#AntiSec is more than Lulz and more than even Anonymous: It is our true belief that this movement has the capability to change the world. And should that fail, we will at least rock the world."
Files from the Zimbabwean government can be found within the torrent, as well as data from the Mosman Municipal Council, a town on the northern suburbs of Sydney, Australia. The torrent also includes passwords and data from Brazilian government agencies.
In addition to the government data dump, #AntiSec turned its attention to Viacom, revealing the internal mapping of the media conglomerate's servers. Universal Music Group's umusic.com site was also hacked, with data and username and password combinations exposed.
As of press time, Betanews could not confirm the validity of any of the group's hacks.
The hack follows news that law enforcement authorities are stepping up their efforts to identify those responsible for LulzSec's attacks. The FBI has raided the home of an Iowa woman suspected to be involved in the hacks, confiscating hard drives and other equipment. The woman has denied any involvement with the hacks.
Others are working actively to out LulzSec. A hacker known as "The Jester" released information that he says outs the groups leader Sabu. According to his data, the leader of LulzSec is allegedly 30-year-old Xavier de Leon, believed to be residing in New York City.