Use your Android phone to control PC overclocking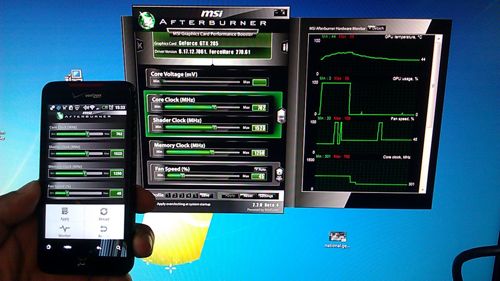 Taiwanese motherboard and video card maker MSI will soon release a free Android app that lets users wirelessly control their Afterburner GPU overclocking utility from their smartphone.
"This is not meant to replace your overclocking software (Afterburner); it's meant to complement it," MSI's Facebook page said. "Think of running a game, and you are just curious as to what the temp readings are without having to Alt+Tab out of the game, or even running it in a window. You can even force fan speed changes on the fly if you see your GPU overheating in-game, without having to exit the program. Who wants to leave in the middle of a firefight?"
Afterburner isn't one of our most popular overclocking utilities <!detail id="1255966366-1">over in our Fileforum, but it has earned an excellent 4.7 star rating from users, and might be worth checking out soon if you are a gamer with an Android phone.
Though MSI hasn't published any specific details about the app yet, the company says it will work by connecting your Android smartphone to the same wireless network that your desktop computer is connected to. This method differs from the Android-based overclocking utility from MSI competitor (and <!article id="1231551995">veritable next-door neighbor) Asustek called <!external href="https://market.android.com/details?id=com.truetel.svc.asus&feature=search_result">RC Bluetooth. As the name suggests, that app connects to certain systems with Asus Republic of Gamers motherboards via Bluetooth rather than Wi-Fi.