Microsoft wants $15 for every Samsung Android device sold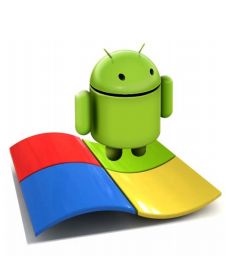 Microsoft is demanding that Samsung pay it $15 in royalties for every Android phone it sells, Korea's Maeil Business Newspaper reported on Wednesday. While Samsung is attempting to negotiate the royalty fee lower, it does indicate that Microsoft plans to become more aggressive in pursuing Android manufacturers over use of technologies within Android that it says it has rights to.
The Redmond company is already receiving $5 for every HTC phone sold with the Android operating system, and that has made the company some $150 million, <!external href="http://www.pcworld.com/article/228890/android_windfall_leads_to_150_million_payday_for_microsoft.html">according to reports. With Microsoft asking three times that from Samsung, the potential is there for the company to make much more from this licensing deal.
Making so much from royalties over Android presents an interesting conundrum for Microsoft: the company actually makes more on licensing for Google's mobile operating system than it has for Windows Phone 7.
Based on current sales numbers, it is believed about two million phones have shipped with Microsoft's current generation mobile OS. With Redmond charging about $15 per device, it has only made around $30 million on its own work, a fifth of just the HTC licensing deal alone.
How long will that last? That's unknown. With Nokia set to begin to start selling <!article id="1308854797">its first Windows Phone in a matter of months, and many more coming in the near future, it's likely licensing fees will increase.
Either way, it's quite unlikely that revenues from WP7 will ever match that from Android, making it one of those ironies of the tech industry that Microsoft stands to make a hefty profit from its competitor's successes.
Noted Microsoft pundit Mary Jo Foley thinks that the Redmond company will not get its full $15 demand though, calling it the company's "saber-rattling price" and meant to scare other Android manufacturers into settlements over intellectual property licensing.
"Microsoft's Android-patent push is a continuation of its campaign, begun last year, to show that the Android operating system isn't really free," she wrote <!external href="http://www.zdnet.com/blog/microsoft/reality-check-microsoft-charging-vendors-a-15-patent-fee-per-android-device/9944">in a blog post discussing the news.
Indeed, Microsoft's tactics could have an ulterior motive: scaring Android developers into considering Windows Phone 7, which some analysts believe has much higher operating margins than the Android platform.