What do game developers and drug dealers have in common?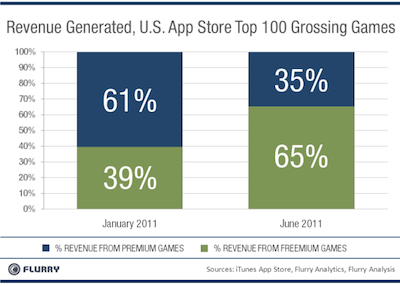 New data suggests that the "freemium" mobile game model is becoming increasingly popular, with two-thirds of all revenue among the top 100 games in the iTunes App Store coming from such games. This is a marked increase from January, when only 39 percent of revenue came from such sources.
Free-to-play or freemium games work like this. Instead of charging for the game up front, it is given away for free. The developer makes its money by extending or enhancing game play through in-app purchases, but they are not necessarily required to play the game itself.
Even considering this, people still purchase these add-ons. Players get just a taste of what's to come and are hooked on the game itself, but are blocked at a certain point from continuing further without making the purchase. Developers have begun to bank on the fact that mobile gamers will hit that "buy" button, and apparently they are doing just that to feed the habit.
Mobile app analytics firm Flurry commissioned the study, and says that with games often occupying three quarters or more of the top apps overall, free-to-play is now becoming the dominant business model in mobile apps today.
"In the new world of digital games distribution, it's all about how many players you can keep engaged with your free game, followed by how many compelling spending opportunities you can provide them," Flurry's Jeferson Valadares said.
He said that the free-to-play model gives apps a better chance of success as users can "try" them without any commitment. At the same time, the developer is not locked into making a set amount of money per download either.
This is attractive to the developer, because in some cases the potential is there to make much more off a download with some users then they would have with a fixed price. Of course, this could go the other way as well -- but the upward potential is much greater.
Data shows that the percentage of users who actually spend money on in-app purchases ranges from .5 to 6 percent. While this may seem small, most of these users will spend much more than whatever fixed price the developer was planning to set.
"Free-to-play is here to stay," he said.
Now, with in-app purchasing becoming more popular, the question is whether or not the system is secure. Apple <!article id="1307390216">has had a problem with security surrounding in-app purchasing, which Betanews has covered in depth.
Even a month after <!article id="1306964962">that original story, reports are still being received surrounding fraudulent purchases with such free-to-play games.