Uh-oh, Kindle, Nook, the first Google e-reader is here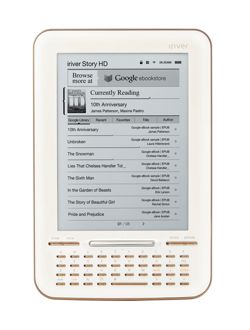 The first e-reader to be integrated with the Google eBooks platform will be the iriver Story HD, and it will be available across the United States on July 17, Google announced Monday.
Google eBooks <!article id="1291654034">launched last December and included a browser-based e-bookstore, and reader apps for <!external href="http://books.google.com/help/ebooks/devices.html">Android and iOS as well as JavaScript-supportive Web browsers. Because Google utilized Adobe's e-book publishing platform, books purchased through Google's bookstore could be read on the long list of <!external href="http://blogs.adobe.com/digitalpublishing/supported-devices">devices that support it.
But unlike those devices, the iriver Story HD will let users access Google eBooks directly on their e-reader without the need for a PC to sync with, and since Google eBooks are stored "in the cloud," this device has more freedom with its storage.
The 6" (768 x 1024) iriver Story HD is built with a Freescale i.MX508 ARM Cortex A8 processor, weighs just 7.3 ounces, includes USB 2.0, Wi-Fi, a QWERTY keypad, and an SD slot for local storage. It was first announced by iriver and joint venture partner LG Display at CES 2011 earlier this year and has already launched in Europe in a variety that doesn't offer Wi-Fi.
Unique to this device is its launch availability in the United States. On Monday, Target announced it would be the exclusive national retailer of the Story HD, and that it will carry a retail price of $139.99.